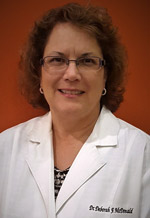 When Deborah F. McDonald, OD, opened North Oak Family Eyecare & Optical in Valdosta, Georgia, in September 2015, she needed a way to stay in touch with the patients she hoped would follow her. She had been working independently out of an optical, but she felt that she needed more input into the business, more control regarding employee issues and more space so that she could ensure that patients had the kind of experience she envisioned for them.
Dr. McDonald, a 1984 graduate of University of Alabama Birmingham School of Optometry, had been working in Valdosta, her hometown, for a number of years—first with an ophthalmology practice and then with another OD, whose practice she eventually bought. She operated the office from within an optical for 11 years before making the move.
She bought a building close by and set about updating it. It had been built by a surgeon in 1985 and had more recently housed a home health agency. Other than needing a barrier wall to provide some privacy to patients at the front desk, most of the work she had done was cosmetic: stripping wallpaper, painting and laying new carpeting. "The rooms were already wheelchair-accessible," she says.
Fortuitously, Dr. McDonald had begun to use Solutionreach as a patient relationship management system even before she opened the new location. Initially, the system's functionality was more limited because it was tied to the patient billing system, but since the practice switched to Crystal Practice Management system earlier this year, she and the staff are now able to use Solutionreach more fully.
It's been a great way to keep in touch with patients and to let them know where to find her. That's because the traditional ways of connecting to patients are slow to change. "I suspect that there will be several printings of the Yellow Pages that have my name connected with two addresses," she says. Even getting her Google searches to link to her new location took several months.

The practice uses Solutionreach in a number of ways to reach out to patients. Becca Mossman, the office manager, says that the process is a real time-saver when it comes to recalls and reminders. She sets the parameters, such as patients whose eye exam was 13 months ago, and the system generates a notice that is sent to the patients' cell phones or emails. Patients who have an appointment are automatically notified a week and a day before their appointment, and if they ask to be notified an hour before their appointment, another reminder notice can be sent to them then. It's much faster and more efficient than printing out a list of names and making calls. Plus, patients who don't respond remain on the Solutionreach cycle and are notified again.
"It's also very easy to send patients a notification that their contact lenses or eyeglasses have arrived or to let them know if there's been some urgent situation here so that we need to reschedule their exam. Most of our patients like being notified by text messages. It's fast and efficient—and having Solutionreach means we don't need to send them a text from one of our personal cell
phones," she says.
If patients respond to a Solutionreach-generated text, that message gets forwarded to the practice receptionist who can then
contact the patient directly. "We have patients who come in all the time who thank us for the birthday message that we sent them. People love those," Mossman says. The best part is that Solutionreach generates those automatically, too.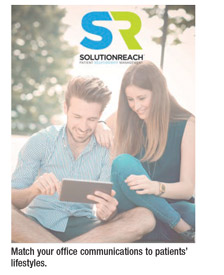 Recently, the practice added the newsletter functionality. "It's very easy to update the messaging and move the elements around. It allows us to send a customized notice about what's going on, such as a seasonal promotion like back-to-school savings. We can also
remind patients about the insurances we take and remind them that we welcome private pay patients, too," Mossman says.
Accepting insurance, in fact, is a major point of differentiation between North Oak Family Eyecare & Optical and the optical where Dr. McDonald was previously. That optical didn't accept vision or medical insurance, so Dr. McDonald determined that now she would participate in as many plans as it made sense to do. If patients have the option of using their vision coverage versus paying for the entire exam and product purchase out of pocket, they're going to go with the provider who accepts their insurance, she says.