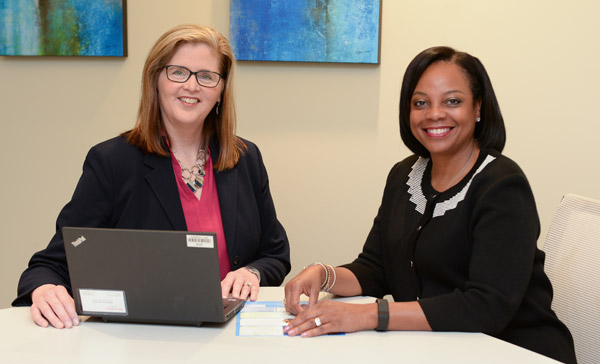 Neither Carol Alexander, OD, FAAO, nor Millicent Knight, OD, FAAO, FAARM, had
expected that their careers would take them into positions of leadership and advocacy at Johnson & Johnson Vision (JJV). They both, however, walked through doors that opened—or that they pushed open.
Dr. Alexander, a 1987 graduate of The Ohio State University College of Optometry, came into the profession serendipitously, she
says. She was an optometric technician, and the OD for whom she was working encouraged her to return to school for an optometry degree.
"Because of my experience in the field, my classmates made me president of the class, which led to interacting with the leadership in the state association. The year I graduated was the year that Ohio passed its diagnostic pharmaceuticals law." Her involvement in handwriting letters on behalf of the campaign got her noticed by others in Ohio's organized optometry profession. "The networks we form through our actions play an important role in where we end up. My advice to young ODs? When you have an opportunity, say yes
and give 110 percent effort. When you do that, others will look to you for participation and leadership in future opportunities."
Dr. Alexander found herself back in legislative advocacy when therapeutic drug use was being debated. "One of the state senators was a patient of mine," she says. "I didn't set out to work on legislative advocacy, but if you care about patients and the profession and have a chance to shape the future, then I say jump in even if it feels a little intimidating."
Dr. Knight also immersed herself in legislative advocacy early, while she was still a first-year student at Illinois College of Optometry. State association reps told the students that ODs in Illinois were not allowed to use diagnostic drops. "Here I was, sitting in class, immersed in learning and spending money on an education that I wouldn't be able to use when I graduated. That made no sense," she says. She went along for a visit to the capitol, where she recalls telling legislators this restriction would cause a "brain drain for their constituents. We can practice to the level for which we're trained elsewhere but not here. Why should we stay?" By the time she
graduated in 1987, ODs' scope had been expanded.
Dr. Knight learned a lesson from an uncle, a U.S. Congressman, who told her, "Support legislators before you need them." It's a
smart strategy because these legislators or their staff members will call on the experts they know for advice. "I encouraged every area legislator to come to my practice for an eye exam. I was confident in the eye care experience they would receive, and they all remained patients," she says.
Dr. Alexander practiced for 20 years, continuing to serve the profession. She was the first woman to serve as president
of the Ohio Optometric Association, and that opened new doors for her. One of those contacts was the late J. Patrick Cummings, OD, who had encouraged her to consider a shift to industry. She began to seriously consider it when she and her husband, Kevin Alexander, OD, PhD, grew weary of their two-household, two-state marriage. She practiced
in Ohio, and he was dean at the Michigan College of Optometry at Ferris State University. "We decided we were wasting valuable life. We wanted to find work that would let us live in the same house. So I called Pat and he offered me a role at JJV. I've been there now for 10 years." She is now the company's director of professional communications.
Before Dr. Knight joined JJV as vice president of professional affairs for North America, she was increasingly active in her professional and academic communities. She was the first female and also the youngest OD on the board of Illinois College of Optometry, serving 12 years there and nearly six years on the Illinois state board of optometry. She also served on the National Advisory Eye Council of the National Eye Institute, where her "rationale for supporting research proposals was whether her patients
would want to have their tax dollars spent on researching these diseases and conditions. My patients were concerned about conditions like macular degeneration, glaucoma and low vision."
Joining JJV meant leaving behind something she loved; in supporting her, her husband, Harvey Echols, MD, also left clinical practice behind. "I wanted to do more for my patients and my profession, contributing at a different level. In my position at JJV, I can advocate for patients in a bigger way, making sure that they continue to receive meaningful innovations with products that will keep them safe and seeing well," she says.
Dr. Knight adds that her position now dovetails with her fundamental belief as a health care professional. "Be of service in accordance to your expertise."
It also fits well with the Johnson & Johnson credo, which reflects on the company's responsibilities to its patients, doctors,
nurses, parents, employees, communities and shareholders. "I felt there were synergies between my beliefs in clinical practice and our credo," she says.
Dr. Alexander agrees that her influence now is similar but on a larger scale. "Advocacy is giving voice to someone who may be vulnerable. It's standing up for someone else. Eye care professionals advocate for their patients individually and often through legislative work. We advocate for the profession by sharing the story of what optometry can do with other professionals, patients and
legislators. The message is similar: it's all about patient health and safety," Dr. Alexander says.
Dr. Knight agrees, noting she tells younger ODs that joining your professional associations in advocacy is like an insurance policy on the degree you worked so hard to earn. As Dr. Alexander says, "You will practice in the future you help to create; the issues will change but the need for advocacy will be ongoing."