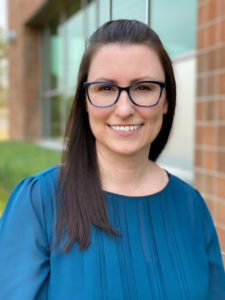 By Carissa Dunphy, ABOC
As an optician, I've had the opportunity to work with and become comfortable using a variety of digital measuring devices. The technology is a great resource for providing the most accurate eyewear, and the process and experience can wow your patients. Working with this technology has become my norm, yet I know that's not the case for all opticians.
When the opportunity arose for me to create a CE about Shamir's new device, Spark Mi Up, I was intrigued at the chance to be able to educate others on the value of digital measuring devices. It felt like a natural relationship (I had previously worked with Shamir) and a unique opportunity. Typically, continuing education is focused on a skill or clinical information, and there are rules and regulations with ABO regarding CE relating to products; however, there is a window of time for when a product is new.
GETTING STARTED
My personal passion for the product fueled me forward. The benefits of digital measuring devices are plentiful from selling premium lenses, increasing sales and establishing a reputation as a high-tech office, to name a few. There are handheld and mobile options or standalone units; all of them are impressive to the patient. Yet I know some practice or optical owners may not want to make the purchase or they prefer a more traditional approach, utilizing lens products that don't require the extra digital measurements. My goal was to focus on the value of this type of technology with an inclusive approach; everyone should know about this technology.
The American Board of Opticianry and National Contact Lens Examiners (ABO-NCLE) does a great job of detailing the timeline of steps and elements required for creating a CE. I did also have to become approved as a speaker and faced a few delays while navigating the learning curve.
DIGGING DEEP
Even though I have experience, that didn't mean there was nothing left to learn. I tapped into my networks to build upon my foundation, asking colleagues as well as people in private, online optician groups, about their daily lives at work. I was surprised to learn how different the routines were. I bounced ideas back and forth with a frame representative who was also writing her first course. I would advise anyone who considers creating a CE to reach out to someone who has done it before. I have yet to come across someone who doesn't want to talk about their experiences, and everyone is genuinely helpful.
I am thankful to two colleagues: David Pietrobon, owner and publisher of OptikConEd.com and CRO (Clinical & Refractive Optometry) Journal at CROjournal.com. The CE is hosted on David's platform at OptikConEd.com; and also Jon Herring, ABOM, independent lab & lens consultant. Both men provided me with their invaluable experience throughout the process, which they are both very familiar with. They guided me through the process, helped me fine-tune my phrasing and clarified technical details for the overall course for approval. They held my hand a lot, and I would have had a lot more questions without their help.
It's important to consider that a CE participant may have no previous knowledge of the topic, so the information should be broken down to its simplest form. Everyone has a preferred style of learning, as well, so consider that in planning. My course combined the visual of a PowerPoint presentation, closed captions and my narration to help me reach a wide audience.
THE POWER BEHIND YOUR KNOWLEDGE
Learning new ways to explain this technology ultimately has made me a stronger optician for future patient interactions. I've heard so many patients share that they've never experienced this technology before. Have you ever had a patient ask, "Why are your lenses so expensive?" Solid preparation can turn an inquisition into a sale. In my experience, most people don't have a problem paying more if they understand why.
When we sell better lenses, customers are happier with their vision and we make more money. It's a positive snowball effect. If you are on the fence about the investment, know that digital measuring devices can be surprisingly affordable. I cover this topic in my CE, detailing the options of how digital measuring devices can be obtained, while some are available through lab rewards, so you pay nothing or very little. You'll never know if you don't ask.
People will be impressed—even from across the room—by the handsome Spark Mi Up unit, as impressed as I was. And if you've ever considered tackling CE creation, now is the ultimate time to do it. In a digital age, you don't have to worry about your hair or outfit. I created my course on off-hours around my full-time work. I did it, and you can, too.
Take some time to browse the CEs available to you. Even if you don't need the credit or are not licensed, you can still read CE and learn from it. There are so many relevant courses available for everything we do. And if you spot something that's missing, consider creating that education yourself.
---
Timeline at a Glance:
Review course criteria and create outline
Submit your final presentation, as well as questions and answers, for approval
For ABO-NCLE, CE is approved for 3 years.
---
Dunphy welcomes WO readers to check out her CE course here. Not just for opticians, the course is informative for anyone who wants to learn more about digital measuring device technology. 
Carissa Dunphy, ABOC, has been working in private practice optometry since 2008 and is the founder of Optician Now (opticiannow.com). Follow Carissa on Instagram and Facebook at @opticiannow.