It's been so crucial to find time to refocus and refresh when office hours are over. These six ODs shared the hobbies and activities that they turn to for enjoyment in feeling a more fulfilled life.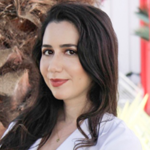 Danielle Roth, OD, of Los Angeles, California, is a self-taught baker who spends time creating delicious treats in her kitchen when she's not seeing patients at her practice, Beverly Grove Vision Care. In fact, her patients can expect to try these baked goods when they come in for their exam. Dr. Roth walks patients through how to make twist buns with a fresh black currant jam. Visit @eyedocbakes on Instagram for the recipe, to see more of her works of edible art and to share your favorites with Dr. Roth.
As a mom of two teenage daughters who are attending virtual high school this fall, Bridgitte Shen Lee, OD, FBCLA, FAAO, of Houston, Texas, shared her advice on focused parenting. By building confidence in the areas of healthy daily habits, essential life skills  and strong mental health, children will learn to take ownership in their routines, allowing busy working moms to have more time for their own self-care.
Neda Gioia, OD, FOWNS, showcased her smoothie-making from her home in Shrewsbury, New Jersey. For six years, Dr. Gioia has turned to smoothies as her own natural medicine to help alleviate health issues. She walks viewers through her typical ingredients, from nondairy milk beverages to probiotics and plenty of fruits and veggies. Dr. Gioia's daughter makes a special appearance for smoothie-pouring.
Louise Sclafani, OD, FAAO, of Chicago, Illinois, has a passion for cooking and entertaining, which stems from her Italian heritage and growing up in the kitchen with her Nonna as she made traditional family cuisine from Sicily. "She never wrote down her recipes; you had to watch her if you wanted to learn," Dr. Sclafani said. "If she did write it down, she'd probably leave something out so that the recipe would be special to her." Today, Dr. Sclafani enjoys cooking regularly with her mom, husband and son. Colleagues have joined her when in town for conferences for special, home-cooked dinners, and she invites her guests to help in the kitchen. You'll surely be hungry after viewing all of the delicious dishes crafted by Dr. Sclafani!
Samantha Hornberger, OD, of Lawrenceburg, Indiana, has made self-care a priority during this 2020 pandemic. "When the shutdown came, those seven weeks were a gift to me. There was stress, for sure, but it allowed me time to pour into other people, spend time with my family and to figure out what was really most important to me." Her return to the office in July on a limited schedule of three days per week was a welcome adjustment, and she's planning to keep this schedule to provide the balance she needs.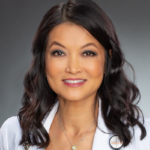 Elise Brisco, OD, FAAO, CCH, FCOVD, of Los Angeles, California, wrapped up the segment talking about the three elements that she said are most important in taking care of herself: input, output and stress management. Input, or how you eat, not only controls your weight but also your energy level. Output, or exercise, can be done in many forms; Dr. Brisco enjoys boxing, weightlifting and training with her son. To relieve her stress, she turns to meditation. Dr. Brisco walked through her daily routine to taking care of herself and her family.
WANT TO HEAR MORE?
Watch their full conversation from the 2020 Women's Leadership Conference below.