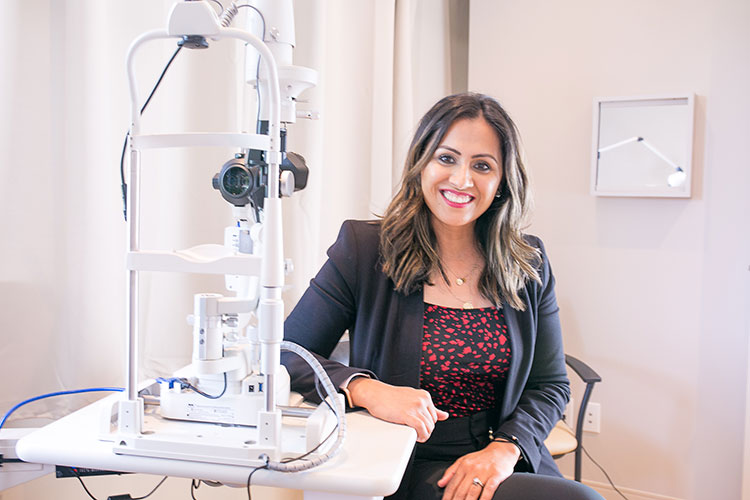 By Mahnia Madan, BSc, OD, FAAO, of Vancouver, British Columbia (BC)
"I can't change the direction of the wind, but I can adjust my sails to always reach my destination."
– Jimmy Dean, American country music singer, actor and businessman
Much has changed in the 15 years since I graduated from Pacific University College of Optometry, even more so in the past few years in the way we practice and the prevalence of eye conditions we see in our exam chairs. Change is happening around us—and will continue to do so—but we don't have to be afraid.
Historically, we've fought to protect the profession. But now, perhaps more than ever, we need to adapt. Rather than protect, we must continue to believe that optometry is a wonderful profession and it needs to be moved forward. We must be adaptive, not reactive.
Whether we like it or not, artificial intelligence programs to test the eyes are already here. It's only a matter of time before they are more accurate. And while technology can replace refraction, it cannot replace a very good clinical judgement. That's why a shift from a refractive model to a more medical care model is so important. We must educate on the importance of comprehensive eye exams, checking for pathology from the front to the back of the eye.
Optometry Times reported that we should expect artificial intelligence (AI) to have a significant  impact on eye and medical care of the future. Just as we embraced AI in other parts of our lives—think of Google Maps—we need to look at how AI can enhance the quality of care we provide. Don't view it as a resource to replace us, yet an opportunity to enhance us. We need to adapt within the profession and maximize within scope.
LET YOUR PASSION BE YOUR FUEL
What you are most passionate about—is it specialty contact lenses or dry eye management spa or unique optical experience? Start there. Educate yourself, expand your knowledge and become an expert in your field. Then spread that information.
I often hear ODs saying we need scope expansion, while that is true but are we practicing to the full scope that we do have? There are so many things that are within our scope such as myopic control, glaucoma management or even spreading awareness through social media! Yet, many of us are not doing this. Social media can be  an excellent resource for creating awareness about the profession and it's within our scope to do. Imagine if more of us do that, we can cause a change. Before the pandemic, I didn't have a professional presence on social media. But I felt a need to connect with my colleagues and patients to spread awareness about dry eye disease as  more people suffered with dry eye. Through social media, I have made  connections with patients and optometrists  around North America  spreading awareness about Platelet Rich Plasma Eye Drops that I've created for personalized, natural dry eye treatment. It's not always easy to put yourself out there, but there are certainly benefits and we are all learning together. I'm amazed by the women ODs on social media and the content and awareness they create. Support one another!
Get involved with your local optometry organization and help move the profession forward. I currently serve as vice president of the British Columbia Optometric Association, and we are continuing to advocate for prescribing rights for oral medications, telehealth capabilities and more. While in BC, I cannot yet practice to the fullest scope as in the United States  where I was trained—Minnesota and Texas—I am happy to say I practice the fullest scope allowed in a medically oriented clinic, where I always aim to provide care to the best of my ability.
EMBRACE NEW OPPORTUNITY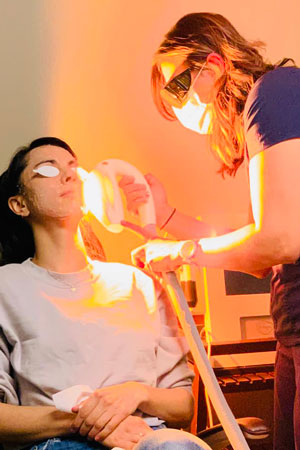 A recent Harvard Business Review article detailed how many businesses go under and why it happens and what are the  trends among those who survive and successfully thrive; two of them included new growth and repositioning the core. There's a strong connection to our profession, as optometry is full of opportunities for new growth through creating new products, services and markets. We cannot stop the world around us, but we can create something new and learn new techniques.
When optometrists provide 100 percent of the procedure and treatment options allowed in their states, their net is cast further and wider. That generates greater awareness of these services as patients refer their families and friends. This wave of motion demonstrates a greater value that we bring to the whole health care system. Together, we can meet the mounting unmet demand of the aging population happening around us. Patients won't turn to their general practitioner when they know that there are ODs with extensive training and diagnostic technology right in their own city. These collective efforts create greater long-term stability for our profession.
We often want to hold on tight to our core values. Maybe they're concepts that worked once in another time, but perhaps it's time to look at our services under a new light. Maybe you never imagined a world with telehealth optometry services; those virtual options are now here. Instead of being afraid to let go of some of the old, hold on to your desire to provide good patient care and a deeper mission of improving the quality of human life. When we keep those core values, the way we deliver care can evolve and help us grow.
Some of us may feel comfortable in the way we practice. We may not see the need for scope expansion or to practice full scope. I was staggered to hear colleague Scott Schacter, OD, speak a few years ago about how more than half of practicing optometrists—among the more than 40,000 in the U.S.—were not writing prescriptions for medication.
Let's be the change. Nearly 70 percent of new, enrolling and graduating ODs are now women, and the vast majority of those who are retiring are men. This is truly becoming a women's profession, and it could be women who have a significant impact. We can collectively push the boundaries and practice full scope.