By Camille Cohen, OD, FAAO
In 2019, my last act as director of communications for the National Optometric Association was to post on the group's Facebook page my struggle with passing NBEO Part 1. It was my humble attempt to shatter the stigma of failure, as experienced by many students. Since then I have worked with and mentored many people. The goal is always to teach them to fight past fear in order to overcome self doubt. Yet, here I was floating in my own pool of insecurity.
The thing about failure is that it can leave a residue, even after you've conquered it. Repeatedly I was told to apply for my American Academy of Optometry Fellowship. It usually led to hysterical laughter on my part. The thought was absurd.
"I'm not fellowship material."
In fact, I avoided attending the AAO conference altogether. I feared feeling unwelcome or out of place, like a mismatched utensil. After I left a medically based private practice to open my own Pearle Vision franchise office, my doubt was further cemented. It wasn't until Janette Pepper, OD, FCOVD, FAAO, encouraged me to write a poster on my mentorship project, that I braved attending the 2021 AAO conference in Boston, Massachusetts.
To my surprise, I had a wonderful time at that conference! I thoroughly enjoyed the CE classes and connecting with other doctors and professionals in the field. However, when colleagues and mentors pushed harder for me to apply, I was still resolute that I wouldn't be a good fit. My 'cool' cases were at the old practice. I argued that the most interesting things I had seen, recently, were bacterial keratitis and GPC. Ruth Shoge, OD, MPH, FAAO, who always maintains a low, even tone, calmly stated that those were cool enough cases for submission.
With that rebuttal, I conceded.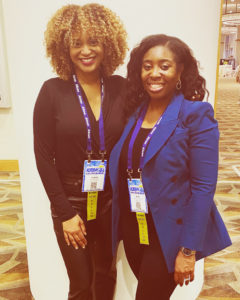 At the start of 2022, I began the application process. My dear friend, Janis James, OD, FAAO, who also owns a corporate office with her husband, Preston Smith, OD, was dragged along for the ride. I felt it was important to have an accountability partner. Plus, we both believe in quality eye care. Managing corporate spaces should not equate with lower standards of care.
Over the past two-and-a-half years, I have worked really hard to shift the culture of my Pearle Vision office. Patients will not treat it as a flea market but rather a respected space that values eye health, as well as business. Many of my patients knew I was applying for my fellowship and were genuinely excited for me. I think patients value quality. My decisions to keep exam times at 30-minute increments, raise office fees and close on weekends have all increased my gross revenue. The emphasis, for me, is to value my well being as well as that of my staff and patients. Having a fellowship, in a corporate office, is respected just as much as in a private practice.
On October 27, 2022, I became a Fellow of the American Academy of Optometry. Apparently, I'm fellowship material after all.