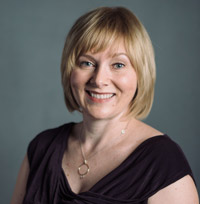 By Deana LaBrosse, OD, of Evanston, Illinois
Even before I considered optometry as a career, I was introduced to the industry working in research positions with human donor eyes and studying macular degeneration during my undergraduate studies. That led me to work in a Walmart Vision Center. The OD I worked for encouraged me to go to optometry school, but I thought it was crazy because it was difficult to get through undergrad. My first daughter was just 3 when I graduated with a degree in chemistry.
I quickly realized that I was maxing out my potential in chemistry and would need a master's or doctorate degree to move forward. I began re-evaluating my options, and I kept reflecting back on my Walmart experience. As luck would have it, there was an immediate opening for a receptionist with a private practice optometrist paying the same salary as I would have earned as a chemist. I worked there for a year and really loved it, so I applied to optometry school, sold my house in Wisconsin and moved to Chicago.
My oldest daughter was in first grade as I started at the Illinois College of Optometry, working during my time in school in the Evanston, Illinois, office of Millicent Knight, OD, CHC, FAARM. But when I found myself as a single mom upon graduation, I didn't feel comfortable opening a private practice with student loans and a mortgage. A steady income was really important. Though I hoped to do so eventually, the plan to open a practice was put on hold.
I gained valuable and rewarding experiences working with a team of ophthalmologists at a glaucoma and surgical practice as the only OD, helping to set up a new optical, as well as contact lens and low vision services, and also as a public health trustee with the Illinois Optometric Association. Next, I worked with the Infant Welfare Society. This was a multifaceted health care center that never had a full-time OD on staff until I started. My patients were mostly immigrants, and my practice was limited to patients aged birth to 19 years old. I worked as part of a team with pediatricians and social workers and educated them on how crucial vision is in child development.
Then I met my second husband, Michael Zost, OD, FCOVD, FAAO, and we decided to practice together for a while. His practice was established, and I knew it would be some time before my schedule was full as the new associate. I purchased a mobile optometry business that provided health care for individuals with developmental and intellectual disabilities to supplement my income while my private practice patient base grew. After some major life developments, including a new baby and back surgery, I focused more on the mobile practice due to its flexibility.
However, traditional private practice has always been my end-goal. After taking time off to recover from back surgery, I realized how important it was to me to be able to practice in the community where I live. I also wanted to focus on my passion for dry eye treatment and nutrition-based eye care. My husband's practice is highly specialized in vision therapy and traumatic brain injury, so the decision was made for me to go out on my own.