By Marjolijn Bijlefeld, Editor in Chief, Women In Optometry (WO)
In the past year, I've talked with program directors leading diversity and inclusion initiatives at schools and colleges of optometry, as well as organizers of the 13% Promise and the National Optometric Association's efforts to increase representation of people of color in the optometric profession. Recent news stories about violence and aggression toward those of Asian American and Pacific Islander (AAPI) heritage brought new horrors into what has been a volatile and politically and racially charged time.
In March, WO conducted a Pop-up Poll on attitudes of racial bias toward the AAPI community—and the results were sobering. One respondent said we were "making mountains out of molehills." Majorities of respondents said that they have seen no increase of racial bias toward the AAPI community in their professional or community circles.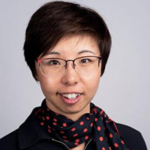 Yet, listen to these stories of women ODs in AAPI and Black communities. It is clear that—noticeable increase or no increase—these optometrists are familiar with the aggressions, microaggressions and dismissive treatment they experience routinely. It's a feeling of being overlooked, as Meng Meng Xu, OD, FAAO, of New England College of Optometry, puts it. "You always feel like you're invisible," says Dr. Xu. "People say hi to the person I'm walking with or assume I don't speak English."
It's painful to hear first-hand about the racial bias these women experience. I stumble through my questions, not sure if I'm asking them well or whether I'm showing my own ignorance. It's a subject that might be easier to avoid than engage. But taking action—even small, awkward steps—can be a catalyst. And it's what needs to happen.
Please listen to this podcast with Janette Pepper, OD, and Mary Hoang, OD, from Southern College of Optometry, and read this roundtable story with six women who shared their thoughts and hopes. Our goal at WO is to continue this conversation and support optometric professionals, regardless of gender, race or ethnicity. These eight women—and undoubtedly countless others—are helping to show us how. Let's keep it going.