By Julianne M. Koch, OD
It is midafternoon sometime in the third week of our office's quarantine shutdown to lower the curve of coronavirus. By this time, I have lost all track of days and all concepts of time. I am in yoga gear, stretching on my yoga mat while simultaneously watching an ophthalmology/optometry-led videocast on my laptop that one of the doctors in my practice recommended.
As I stretch, I watch the intro on and off. There are four men: three ophthalmologists and one optometrist. Some are in scrubs; some are in work attire. Most of them have beards and overgrown manes. They talk about the changes that are happening due to the new virus. They banter back and forth about how no one is getting a haircut or even shaving their beards. Then they proceed to discuss how there is going to be a baby boom from this pandemic. In response to this topic, one of the men says (with the excitement of a small child, no less): "Because the women are finally at home again!"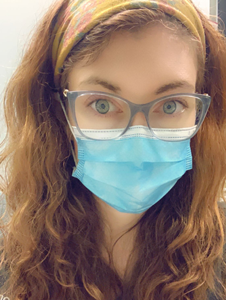 I fell quickly out of my down dog position and paused the videocast. I am shocked at what this guy just said. I hit rewind, and sure enough. The words are there, floating in the air:  "Because the women are finally home again!" I ran into our guest room, which is now my husband's office, to tell him the appalling thing I had just witnessed. He was on an important conference call I couldn't interrupt. Then, I got a call from a patient about an eye emergency. Then, I closed my computer and decided that I will not watch a videocast from a sexist doctor who doesn't realize that it takes two people to make a child and that it's not a woman's job to stay at home.
I went on with my day and forgot about this incident until months later when I saw a quote in an online forum: "COVID-19 has highlighted how little we, as a society, value the working mother and how easily we expect her to give up her seat." That's when I remembered that videocast. I remembered the older male ophthalmologist who was so elated over the fact that the women were at home again.
I know this isn't true for all families, and I know that all men don't believe this. I know that there are couples out there that support each other equally. I know there are strong women in the health care world kicking butt while their partners provide equal or even more of the child care duties for their families. I also know that it's a woman's choice—and it should always be her choice—whether or not she wants to stay home with her children.
As for me, I am pregnant with a pandemic baby. I am a walking cliché of what society said would happen when we were all off work, when "the women are finally at home again." But, I will have a support system and a partner who is my equal. I will go back to work because that's my choice. I will kick butt at being both an optometrist and a mother, just as my husband will do the same being both a father and an engineer. We will remember that we were both finally home again during this pandemic. While home remains our center, it's not the only place I choose to be.
Dr. Koch practices at Wang Vision Institute in Nashville, Tennessee.