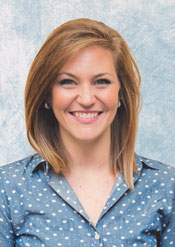 By Amanda Tompkins, OD, instructor and OD at The Eye Center at Southern College of Optometry
My fingers were losing their grip as they turned into icicles. My scooping arm was growing numb. As I placed the 1 millionth scoop of ice cream on top of the 1,000th sugar cone, I scanned the room. I saw a sea of dirty little baseball caps, the remainder of the Little League team still to order their sweet dairy treats from the fountain, and the guy behind the other counter. He was sorting pills and filling bottles, bottle after bottle after bottle, countless prescriptions. It was then that I knew pharmacy was not my gig.
Driving home later that evening after refilling the chocolate sauce, mixing up the sugar water and cleaning off the milkshake machine, I realized I was back at the drawing board. What was I going to be when I grew up? I had been in pursuit of a career in pharmacy because it was something I could do in my rural Kentucky town that was medically related. I was honored to say that for my first job, I was a soda jerk at the oldest pharmacy in Kentucky, but my heart wasn't stirred.
Weeks later, I was sitting on my bed, running through all of the career options in my head, eliminating each one by one. I paused when I realized there was one that I had left out: optometry. In that moment I thought about my personal experience with "one or two" and how it felt to be a patient at the optometrist's office. I thought about the big eye model and room full of frames. I thought about the clean air and the friendly faces and the not-so-scary atmosphere; it almost felt fun. Then I said, "I can't think of anything wrong with optometry."
I knew from my pharmacy experience that I needed to get my feet onto the soil, feel it out. There had never been a full-time optometrist in my town, but as serendipity would have it, I had overheard at the pharmacy that there was an optometrist commuting to our town a couple times per month to serve our community. I contacted him, met him on a day he was in town, and began commuting
to his practice 30 miles away.
Day after day, I still couldn't think of anything wrong with optometry. In fact, I forgot I was putting it on trial. I was falling in love. As with romantic love, I was swept away, challenged and fulfilled. I was growing and learning, and I was committed. Love takes us to unexpected places, and this has never been more true than what I have seen happen with my career.