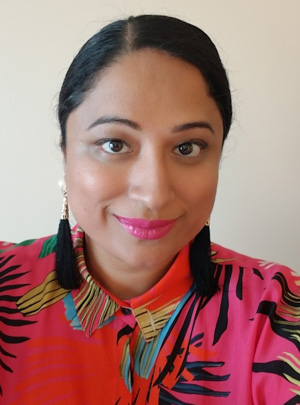 By Sareya Khatkur, OD, of Brantford, Ontario
My entire way through school, I teetered back and forth between my love of health sciences and the visual arts. When I came across the concept of a career in optometry—in the health sciences, but also dealing with vision—it seemed like a perfect match. As a visual artist, I'm very passionate about the importance of vision and being able to help people see and appreciate their world. Also, my knowledge of the visual sciences gives me a unique understanding of how our eyes perceive light, color and shapes and how our eyes perceive the world around them. The two fields truly play off of each other.
2010 was a crazy year as I began to merge my two careers. I graduated from the University of Waterloo School of Optometry in June, was married in July and opened my first private practice in Hamilton, Ontario, by the end of the year. My husband left his job and joined me, bringing his business background to managing the office. I did custom art work on the side on evenings and weekends.
We committed to this new journey together, all of my interests came together and the business was growing and doing well, and in 2011, we also found success in a different model: opening non-dispensing optometry offices alongside successful independent optical shops. We found the first optical through one of my staff members who then worked in my private practice. I was told it was a high-quality location in Brantford, Ontario, with great people who didn't have a doctor. I approached the owners of the next two opticals I worked with in Toronto and Mississauga. They looked like fun places to work that were full of positive energy, and I could bring eye care services to their customers under the same roof.
Then, in 2014, an interesting opportunity presented itself to sell my private practice to another optometrist in town. I found myself considering it, and I went back and forth about what to do. I had realized by that point I wasn't incredibly passionate about dispensing and glasses. My husband and I believe in going with the flow and seeing where life takes us, so I decided that this would be an interesting way to close this chapter and see what else is ahead of us.
The results of that decision are overwhelmingly positive. Business has been great, and our Brantford patient base has grown so much that I have leased my own space right nearby the optical where I started that location.
So, while working under the same roof as an optical store may not seem as glamorous as a full-scope private practice, it could be the perfect fit for some optometrists and should not be overlooked. In a non-dispensing practice there is often less time required for administrative work (selecting frames, meeting with frame reps and suppliers, etc.), and this has allowed me to focus on my interests: eye care, excluding glasses and dispensing, and working on projects in the visual arts. It also gave me the opportunity to grow a loyal patient base with little cost. And now I have the chance to open my own non-dispensing practice in a large power center not far from where I live. Click here to read more about my new practice.