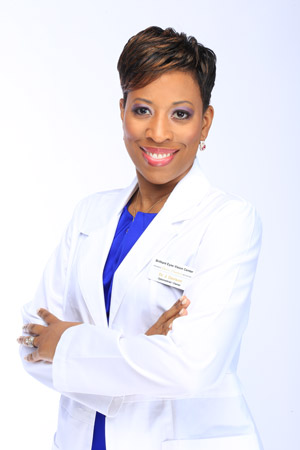 Janelle Davison, OD, planned to open her own practice five years out of school, but she accomplished this goal in four years in 2010. Seven years later, she scheduled her 10,000th patient at Brilliant Eyes in Marietta, Georgia.
"Hang in there if you are starting a practice," Dr. Davison says. "It's not a sprint—it's a slow marathon with ups and downs, but there is a light at the end of the tunnel." Her driven attitude and determination has led her from the early days when she delivered letters to local primary care doctors and pediatricians to build her referral network. Several times per week, patients are referred from local doctors for a diabetic or pediatric eye exam. Cobb County keeps on renewing her annual contract as a secondary screening site for students who do not pass their school screening.
She hired a public relations and patient coordinator a year ago to continue making connections with local doctor offices, as her schedule of 20 to 22 patients a day is keeping her in the office. She and her coordinator track, maintain and strengthen relationships
with referring offices as well as target opportunities for growth.
In 2017, since Dr. Davison joined the Vision Source® network, she has benefitted from the practice management guidance to the geospatial analysis that helps her maximize utilization of social media marketing resources. "Services like this can cost thousands of dollars, but it's included in your membership," she says. The analysis provides data about her market share and detailed patient demographics—such as how much money is spent on eye care in her ZIP code or what music her potential patients like—so her marketing can be specific and successful.
Dr. Davison was strategic with all of her hiring. "I've incorporated roles for delegation so there is less pressure on me and we have steady days." Her coordinator works at the front desk, is cross-trained to fill in anywhere and runs health fairs and preschool and daycare screenings. Her technician is responsible for pretesting and assisting with contact lens fits, as Dr. Davison is proactive with one-day contact lens fits and receives referrals for specialty fits for scleral lenses on kerataconus patients. Her office manager doubles as an optician, and she has one more optician on the team.
Staff training from Vision Source, most recently with Essilor Experts, is a great resource she is now using to keep her team up to speed, and Dr. Davison stays informed at local meetings and The Exchange®. She turns to the network with questions from advice on billing or issues such as when her office manager gave her two-week notice. "I didn't know how I would go on, but my Vision Source colleagues showed me that it would be okay," she says. "Less than a month later, the situation was already better." She says that her emphasis on patient education sets the office apart and keeps patients loyal, and she sees patients every day who have been with her since 2010.
Dr. Davison recently installed TVs and tablets from Outcome Health that stream eye health and nutritional information, and she uses a 3D interactive exam room touchscreen to illustrate the eye or other body structures to explain an ocular disease process.
She is preparing the business for an associate OD so that she can dedicate more time to her family—she has a kindergartner and a third-grader—and the community through the nonprofit that she founded with her sister, who is a dentist. S.C.O.R.E. Inc. provides the tools, skills and confidence needed for rising high school juniors—young women of any background, race or ethnicity—to pursue a college degree in the sciences and health care.