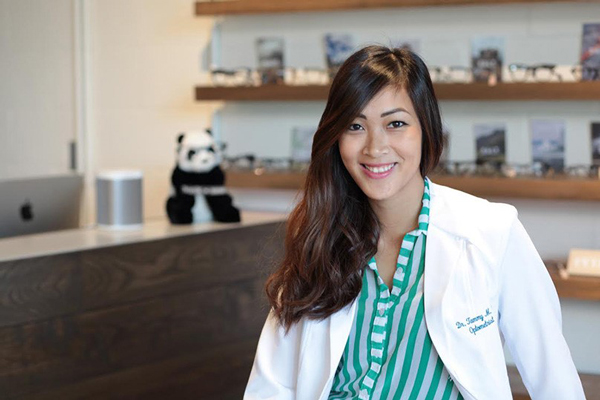 When Tammy Vo, OD, was in her fourth year at the University of Houston College of Optometry, she tackled her business plan. It became her guiding document when she returned from a three-week European vacation after graduation in May 2014, ready to sign a lease and start the process of opening her first practice.
"I knew that I wanted to practice in Austin, Texas, and I had an idea of the area I wanted to be in," she says. She had identified a cool, eclectic neighborhood in south Austin, and her timing was just right. "The two streets surrounding mine have just blown up with commercial growth. It would be almost impossible to find a spot like this now," she says.
The space was an old print shop, a 2,250-squarefoot, freestanding building just off the main road. There aren't stores immediately nearby, but the general area is busy. Plus, since the practice opened in January 2015, it's been growing by word-of-mouth referrals and an increasing social media presence.
There have been many times that Dr. Vo consulted her business plan because it was so specific, from the Look + See practice logo down to the color of the teal accent paint and the type of wood she wanted for the shelving and the wall behind the reception desk. "I used an architect, but I had a vision of what I wanted it to look like. I wanted it be very open and calming." There was space enough for three exam lanes, an edging lab, a pretesting area, a special testing area, an employee break room and her office.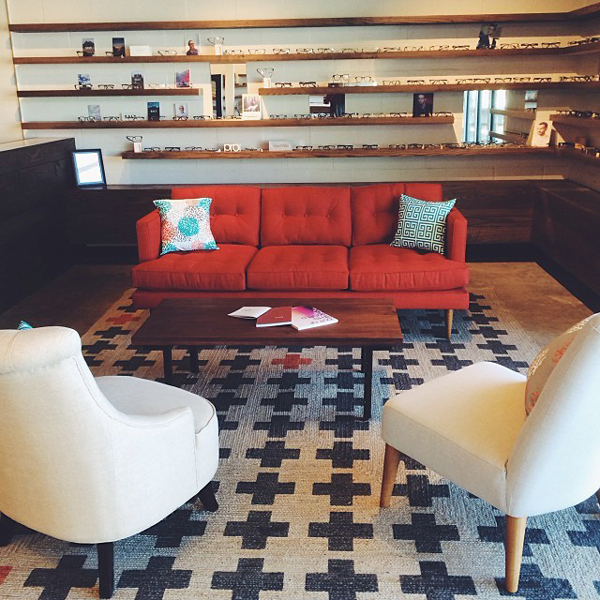 ACCELERATED GROWTH
A second doctor, Travis Bailey, OD, joined her in practice earlier in 2018. That allows her to reduce the two-week wait for an appointment without giving up her treasured 30-minute exam slots or needing to add more hours to her week. In her business plan, she planned for a second doctor to join her by her tenth year, so she arrived at this point much sooner than she envisioned.
She says that becoming part of Vision Source® before she started may have played a factor in that growth. "I needed a support network, so it's very helpful to get ideas from ODs who are wiser than me," she says. The interaction with colleagues who provide her with a different perspective and friendly advice has been a great benefit.
Dr. Vo says that her experience shows that opening a practice straight out of school can be done. "It's possible to open cold, see patients at your own pace, not be open on weekends and close early on Fridays—and still be financially successful," she says. That's even with some challenges particular to her market segment. She has a young patient demographic, most of which doesn't need progressives and includes many who don't buy their eyewear there initially. "I have a low capture rate but a very high per-patient revenue," she says. She believes that her personal attention and customized exam time, along with her commitment to sell only the best products, contribute to that.
KNOW YOUR DEMOGRAPHIC
She uses social media to explain the benefits of great-looking frames and superior products to achieve visual comfort, using patients and staff as models.
She built up her dispensary to include about 1,000 frames, a number she now thinks is higher than needed. "I block time out of my schedule to meet with the frame representatives. I haven't delegated that because I love it so much. We like to stay on top of the trends without trying to push the boundaries of people's comfort zones too much," she says. Her combination of a stunning environment, extraordinary products and personalized care put her solidly on a growth trajectory.