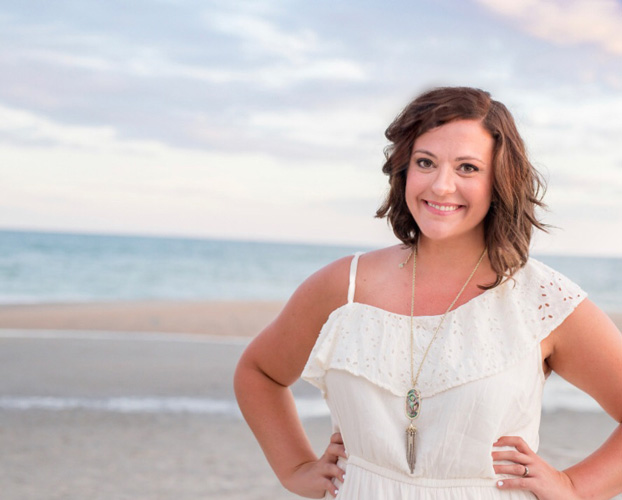 In July, Haley Perry, OD, celebrated the grand opening of the newly relocated Elite Eye Care, her practice in Arden, North Carolina. The move was a short one—just across the plaza in the shopping center—but it was a long journey to get there since her start in practice ownership in 2011. At that time, Dr. Perry had graduated two years earlier from University of Alabama, Birmingham, School of Optometry, and had been an employee in an office with an offer to buy in, but the fit wasn't quite right.
Then an opportunity presented itself to purchase a satellite clinic in the community of Asheville. She reviewed the numbers; the practice revenue looked decent. As a young OD, she saw only the potential in keeping and growing upon that foundation. So she jumped on it.
Yet once she took ownership, Dr. Perry says that she realized how much work was ahead. She cautions all ODs looking to purchase a practice to dig deeper. The charts revealed that the doctor was seeing a small number of patients, but having them return multiple times per year, which wasn't necessary in most cases. She struggled to rebuild the patient base. "It is hard to grow a practice when you don't live where you work," Dr. Perry says. She picked up a leaseholder position with Walmart to supplement her income.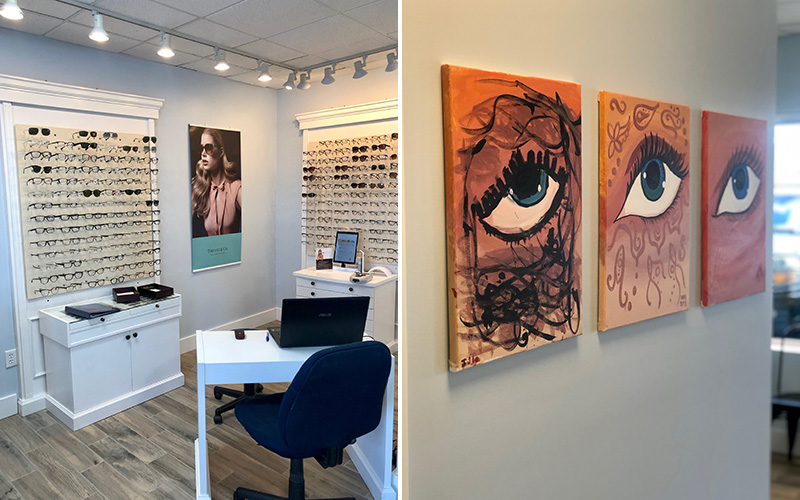 Help at a Critical Point
That's when one of her contact lens representatives suggested she consider joining Vision Source®. "I was on an island by myself, and every other doctor felt like competition. Vision Source saved me," Dr. Perry recalls. "I don't think I would have a practice today without the doctors in Vision Source taking me under their wings."
The support of the network quickly proved itself to be a valuable asset. "To have not just one but several doctors ask what I needed help with and give me sound advice really meant a lot to me." She pushed through, eventually left her lease at Walmart and, in 2014, she decided to purchase a second practice. The situation in Asheville was improving, and her youngest daughter was entering kindergarten, so she managed two practices for the next two years. In 2016, she merged them into the Arden location. "I did all the wrong things to get there, but I had one very successful practice."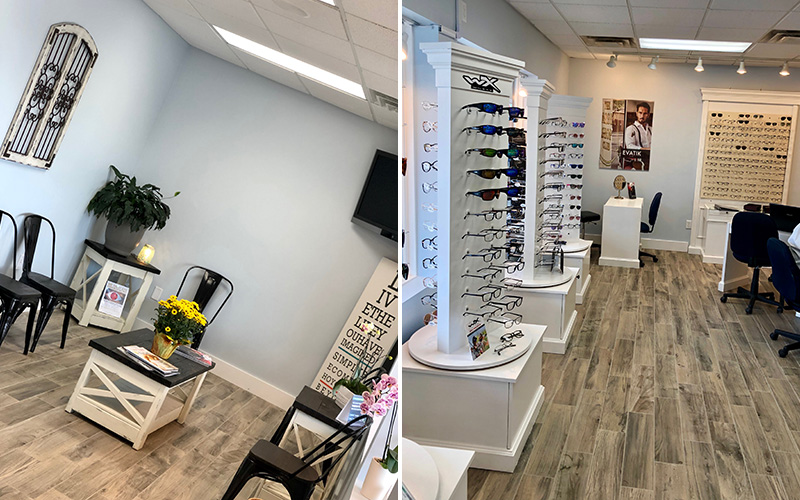 It was easy to say goodbye to the Asheville location—it was way off of the beaten path with terrible visibility. The Arden office had more potential in its location on a busy street, yet the style was not quite her own. "It was very nautical, and I'm more of a mountain girl." The space was 15 years old and needed a refresh, but when Dr. Perry found out a space was available across the shopping center, she chose to double her space.
Focus on Culture
Dr. Perry has invested in staff culture training and defining the core values of the team. "At every decision every step of the way, we ask ourselves, 'Does this live up to our core values?'" They're not selling eyeglasses; they're prescribing a solution based on each patient's needs. They are empowering patients with education about their eye health and the products that are prescribed, she says. It's a Disney-like experience where patients are treated like friends and family. This focus on this culture helped Dr. Perry with the difficult task of whittling down her staff from the two offices into one team that was completely on board with the mission.
Moving to and getting involved with the community have helped her build her patient base. She attends her daughters' school and extracurricular activities, sponsors a local softball team and has started a professional Instagram page. She remains committed to the profession, recently starting up a district of the North Carolina Optometric Society (NCOS) in their region with a colleague. She also serves as a trustee on the NCOS.
Dr. Perry is excited about the future. She continues to find value in her Vision Source membership. For example, new hires complete training in The Optical Dream and ECP University. She has become an administrator to help spread the value of Vision Source, and a member of her office staff is in the Vision Source Representative program. "It has been insanely hard, but I'm so proud that I did it," she says. "It's all very worth it; I'm a huge private practice fan."