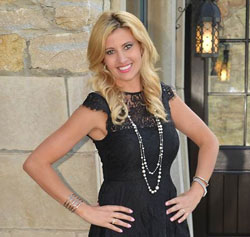 Kayla Gaddis, OD, wanted to open an optometry practice unlike anything the people of McKinney, Texas, had seen before. "I wanted it to be eclectic, a boutique. I wanted my patients to feel that this was different from the minute they walk in the door," she says.
Dr. Gaddis, a 2007 graduate of University of Houston College of Optometry, moved with her MD husband to Louisiana, where she started her career with a large multispecialty MD/OD group in Louisiana. "I love having the background of having worked in a medical practice. I did a lot of co-managing LASIK and cataract patients," she says.
"The initial plan was to work in an underserved area of Louisiana, gain wide experience and earn some loan forgiveness. Three years turned into six," she says, but when the couple had children, they wanted to return closer to Dr. Gaddis' hometown.
In November 2013, she opened Blink Eyecare, and now she provides full-scope optometric services in a growing practice. Dr. Gaddis is very involved with the community. Some of that comes naturally as the mother of a 3-year-old and a 6-year-old in kindergarten. But she has expanded beyond that. "I was asked to be the official eye doctor of the Texas Revolution, an indoor football team. We are also involved in community organizations and women's group. Plus, we have an active online presence with YouTube and Twitter."
When Dr. Gaddis first opened, she started with 1.5 employees. She recently hired her fourth employee and opened a second exam lane earlier this year. Her building has 1,700 square feet, with an additional 300 square feet on the second floor. She converted the upstairs space to her office, and the area she vacated downstairs was equipped as a second exam lane.
Dr. Gaddis joined Vision Source® before she opened. Her best friend from college and optometry school, Belinda Dobson, OD, bought a Vision Source® member practice in College Station, Texas. "She's the one who let me know what Vision Source® is and encouraged me to go that route. I went to The Exchange® even before I opened, so I had a chance to experience the networking before I started."
It's been a good choice, says Dr. Gaddis. "With Vision Source® pricing and discounts, my money could go further in terms of the equipment I brought in," she says. Administrator Wiley Curtis, OD, has also been very helpful to her. The overall task of running a business hasn't daunted Dr. Gaddis. She hired The Williams Group and a CPA to help her with her initial planning. Despite her business acumen and her clinical skills, she notes that there was a learning curve involved with managing an optical. "Vision Source® has helped me with decisions on what to bring into the office. For example, we use Essilor lenses, and through The Optical DreamSM, I'm learning more about how to manage my optical."
She has also found that she enjoys having a hand in the optical. "I didn't want a wall of frames where they're all displayed in rows. People can't really look at them that way. I view frames as if they're pieces of jewelry. I want them to be at different heights and where people can touch them," she says.
Dr. Gaddis says that going to The Exchange® each year also helps identify a growth track for her. "The first year, I bought the Daytona from Optos. In 2015, I embraced The Optical DreamSM. This year, I bought equipment to outfit a second lane. I'm also eager to incorporate the new initiatives."