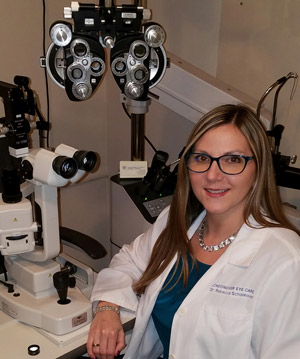 Rebecca Schoonover, OD, of Peckville, Pennsylvania, had both experience and support when she began practicing optometry. Before she became an OD, she was a certified optician and earned her ABOC and COA certifications prior to attending Nova Southeastern University College of Optometry. She spent three years working in corporate settings before deciding that she wanted the authority and control that came from having her own practice with her own staff and management of the optical dispensary. However, when she was approached by a local primary care provider who offered her a spot that had earlier been
an eye care practice, she recalls being "scared to death. Those were some sleepless nights in 2008. I didn't know the first thing about running a practice."
She turned to her OD friends, as well as her uncle, a medical attorney, who advised her on the legal and financial aspects of starting a practice. "I became an Excel spreadsheet person for about five years until I switched over to electronic health records." Eventually, she was approached by Vision Source® and joined the network, which provided her with a whole new level of professional resources.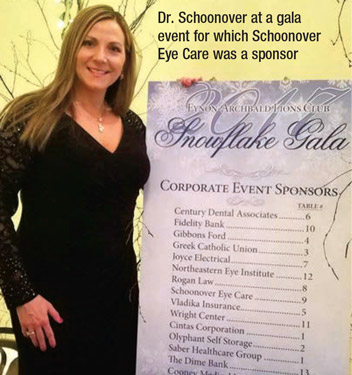 In her volunteer work, Dr. Schoonover has made a positive community impact. For 10 years she was an active member of the Junior League of Scranton, an international women's service organization, and she also served as a board member for Cinderella's Closet, which enables young women to purchase new and gently used prom dresses, shoes and purses. She's the founder of Cocktails for a Cause, an annual fundraising event that splits its proceeds between Research to Prevent Blindness, which conducts research toward the prevention, treatment, or eradication of all diseases that threaten vision, and the local Lackawanna Blind Association,
a local agency that services the visually impaired. She helped create the Happy Birthday Hour at the Women's Resource Center in Scranton, which makes sure that children served by the program get a nice birthday gift. For this and more, she was honored with the Margaret L. Richards Award, given annually to a member of the Junior League of Scranton for outstanding leadership and volunteerism. She's been a member of the Pennsylvania Optometric Association's public relations committee, too.
Yet in terms of her practice, which just celebrated its ninth anniversary in January, Dr. Schoonover was glad to have the help that Vision Source® offered. "I have Vision Source® to help me with the little battles. That's why I'm going to grow and expand," she says. For example, even the way that vendor representatives treated her was different when she joined Vision Source®. "I was only 30 when I opened my practice. I'd call a lab or vendor and didn't get the results I wanted. That changed when I became a member of Vision Source®," she says. Now she also knows that she has access to industry-leading programs, like Essilor Experts™. The practice team had its training in the program in January.
The other big change is that Dr. Schoonover will be moving Schoonover Eye Care to a new location soon. "Instead of continuing to rent the small space we've had, I purchased a building that will let us triple our size," she says. The space, a former real estate brokerage office, should be ready by May. With as little renovation as possible, she's removed the little offices and cubicles to create a space with two exam lanes, two pretesting rooms and a contact lens room. She hired an architect, and her father, a contractor, is overseeing the work. She is working with Eye Designs to create a unique, customized and inviting atmosphere in her optical retail space. Not only does she want it to look and feel different than competitors' locations, she will ensure that her frame offerings include some exciting brands that the corporate locations do not carry.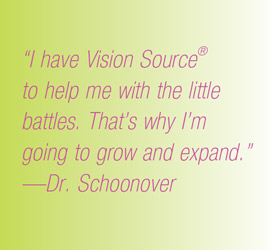 She expects the practice to grow significantly when she makes the move. In its current location, with only one exam lane
and no pretest room, bottlenecks have been common. "On our Solutionreach surveys, we do really well with every aspect except waiting time. That's going to change when we have more space," she says.
She also plans to bring on an associate doctor who can transition to partner within three years. After these years of establishing herself as an OD and community-minded professional, she's ready to take the practice to a new level. "I ask myself if I'm the coach, the team owner or the manager. I want to turn this into a practice where I don't have to wear several hats. That means empowering the staff to handle issues on their own," she says. That's another area where Vision Source® can help. "You may not always know what you're doing, but if you're smart enough to ask the questions, Vision Source® can help. There have been so many people who shared their notes with me," she says.