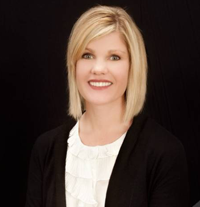 Holly Coriell, OD, took a leap of faith when she signed the lease on a new practice location in Carmel, Indiana, nearly four years ago. Another OD had been in that space, but his business had closed within two short years. Could she make it work where someone else had failed? "I know that there are a number of factors that can make or break a practice, and location is only one of them. But I do credit my Vision Source® membership with my continued growth," she says.
The ghost of the former failed practice wasn't the only thing that haunted her when she started out. She didn't know many people in town. She and her husband had relocated to the area a few years earlier for his job, but she hadn't found a great working situation. She filled in where she could, often in mall settings until late in the evening. With three young children at home, that wasn't the schedule or kind of work she wanted. So she began searching for a location, and when she found this site, the former OD's loss was truly her gain. "It was more space than I had been looking for. Plus, it was designed as an optometric practice."
Three weeks after the 2000 graduate of University of Alabama at Birmingham School of Optometry opened for business—after having seen a total of six patients—she received a phone call from the Vision Source® administrator. She knew about Vision Source® because the highly successful practice she previously worked for in Atlanta was a network member. But she hadn't realized that Vision Source® was in Indiana—and she didn't think her new practice would come onto the network's radar. "I could understand what Vision Source® could do for me, but I really didn't know what I had to offer Vision Source®," she recalls. After accepting a complimentary dinner invitation from Vision Source®, she learned that Vision Source® was looking for practices with growth potential to join the network.
She joined immediately, and it has been a factor both in terms of cost-of-goods savings and in the arc of her success. "I think Vision Source® sped up my growth curve in a huge way. Every month, I'm seeing growth," she says.
In terms of savings, she says that she watches every penny the office spends. "I only utilize Vision Source® vendors. The vendor book is on my favorite's tab on my browser. If I'm going to buy or add any service, I look through it to see who gives us the best discounts," she says. For example, unless it's not allowed by the managed vision plan, she uses only Truclear lenses, the Vision Source® private label from Essilor. "I'm so confident in Truclear. I tell patients, 'Try our brand, and if you don't like it, I'll switch it back. I have yet to remake a lens for that reason," she says. The Truclear brand and Essilor lab savings have contributed directly to her bottom line, she says.
In January, Dr. Coriell passed a major milestone: she brought on Tara Cooper, OD, to work one day a week. On her third week there, Dr. Cooper's schedule was completely full. "We're trying to put a lot of our new patients onto her schedule," says Dr. Coriell. The new schedule allows Dr. Coriell the chance to catch up on administrative work on Mondays, or even take part of the day to get her own family demands in order. At the moment, there's one complete exam lane, but there's room for a second. Dr. Coriell appreciates that she can take advantage of Vision Source pricing on equipment when she's ready to make a purchase. She says that her Vision Source® colleagues have been instrumental in helping her to understand the strategies and tactics of highly successful practices. "From advertising and marketing decisions to when to bring on an associate, my colleagues have been so forthcoming. I'm constantly asking for advice," she says.
The practice is open 9 a.m. to 5 p.m. on weekdays, and is extended until 6 p.m. on Tuesdays. It's also open one Saturday a month. "Saturdays fill up quickly, as do evenings. But with three kids at home, it's important for me to get home in the evening," she says. Now that all three of her children are in school, she can schedule opportunities to go out for lunch or help out in the classroom, or even block out half a day to chaperone a field trip. Her staff of three full-time and two part-time employees work with her to make sure the schedule is free for those events.
Carmel is a community filled with young families. Indeed, Dr. Coriell began to wonder just how young her demographic was when she realized she hadn't ordered any progressive lenses at all in her first few months in practice. "But so many of these parents of young children are now bringing in their parents. That's so flattering," she says. As a result, her progressive lens prescriptions, as well as medical visits for glaucoma and other conditions, are increasing regularly, too.
Dr. Coriell is finding that she is not walking in her predecessor's footsteps at all. Her path is much brighter—thanks, in large part to her Vision Source® membership. Now that she is benefiting from continued growth every month, she's preparing for another phase of growth that includes a part-time second OD and new signage on the busy street. This time, she'd like the signage to include her affiliation with the Vision Source® network.