Laura Lehman, OD, of Malvern, Pennsylvania, knows about long-term goals. From the time she was in school at the Pennsylvania College of Optometry (at Salus University), she knew she wanted to own her own distinctive practice. She also knew that immediately after graduation, buying a practice was not the most financially wise decision. Instead, she focused on getting a job to save up and gain experience.
During this time, she got married and started a family—all while working part time at a practice three days a week. The area she and her husband chose was an up-and-coming city, and Dr. Lehman couldn't help but wonder what the rent would be. As luck would have it, an open location near their home was being seriously looked at by another OD. "I told my husband, 'We've got to do it now, or we might lose our opportunity." After almost a year of dotting the i's and crossing the t's, her new practice, VisualEyes Optique, was open for business in late 2018.
HELP FROM HER FRIENDS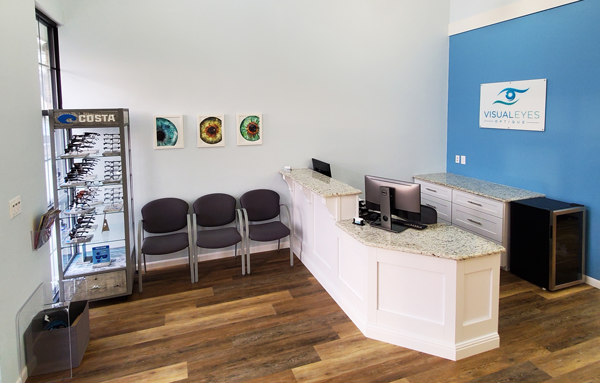 Dr. Lehman experienced firsthand perk of being a business owner opening a cold start practice: the chance to put your own unique taste into the practice. "My best friend from optometry school's husband is an architect. He used the original blueprints and moved them to work best with my vision of the space. I hired one contractor, but I picked most everything myself."
Dr. Lehman saved where she could, hiring a kitchen cabinet company to build her front desk. Knowing the experience she wanted to give to everyone who walked through her doors, she was able to make the decisions about her interior to provide her desired effect.
The soft grays and blues with the natural elements of a wood-look floor and large window in the cathedral ceiling give the space a well-lit, soothing feel. Three large watercolor iris paintings adorn a main wall, providing an interesting focal point. "I wanted patients to have an experience that was calming, bright and airy." There were many decisions to make the patient experience feel more relaxed, as well as serve the business.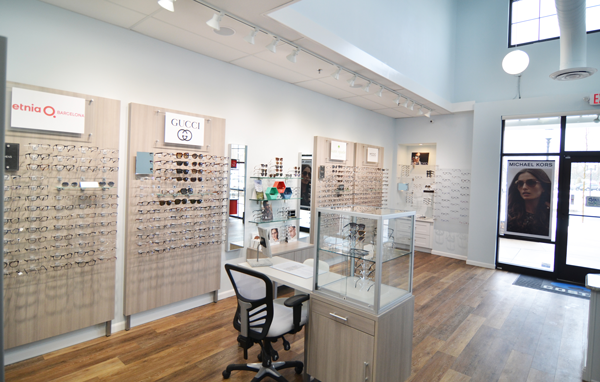 Focusing on an optical area that was shopper-friendly, she wanted patients to feel comfortable and confident that her optical dispensary had a great selection of frames at a variety of price points, so they didn't feel like they had to take their prescriptions elsewhere.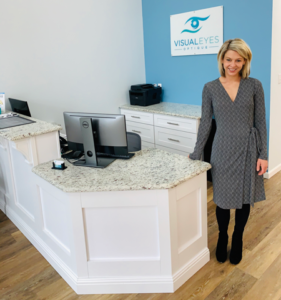 Looking to the future and her long-term goals with her patient base, she knew she needed to invest in more technology. "We spent a lot on technology, and I want to incorporate even more into the office [to] get a younger age group than there was before."
She provides a full range of services, from dry eye to glaucoma co-management and neurolenses® contoured prism lenses for patients who suffer from headaches, neck and shoulder pain and eyestrain from using digital devices.
SEEING THE FUTURE
Dr. Lehman prioritized becoming a Vision Source® member before her doors were even open. That early involvement, finalized just after she opened, was critical to her purchasing choices. Setting up an office with the kind of technology and product range that she wanted is a big investment. Relying on the negotiated rates through her Vision Source membership meant she didn't have to shop around as much, looking for good value. "I don't have to wait for an expo; I can buy it at the Vision Source price when I need or am ready to add a product or service," she says."
As she moves forward in 2020, Dr. Lehman can reflect on the success she has found by taking her shot. While her practice is her and her office manager currently, she sees the potential for growth. "I love our patient base, and I feel like the community has embraced us."