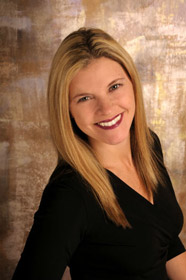 Tausha Barton, OD, and her husband moved back to their hometown of Hillsboro, Ohio, following her graduation from the Illinois College of Optometry and her residency specializing in ocular disease and low vision rehabilitation. She decided to open her own practice after just a year of working for another doctor. Looking back, she says, the timing of it all was a bit crazy. When she opened her doors in the fall of 2004, "my first-born child was 10 months old, and I was starting a new office as a solo practitioner."
It was a lot of work, but it was worth it, particularly in the areas of designing her own patient care experience and her own schedule, says Dr. Barton. "We have cultivated a practice philosophy to treat our patients like family," Dr. Barton explains.
Dr. Barton began to consider joining Vision Source® seriously when a colleague told her that "when she joined Vision Source®, she no longer felt like she was out on an island," Dr. Barton recalls. She could relate. "You are so busy in private practice keeping things afloat that you can't keep up with everything going on in the sector of optometry. You can't have your thumb on the pulse all the time, and when we come together as Vision Source® members, we support each other in an environment where you can feel comfortable to express your ideas and get feedback." Dr. Barton joined Vision Source® shortly after attending a local meeting in 2014.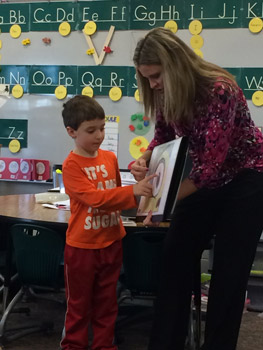 Dr. Barton and her staff focus their time in the office on personalized care. "We work our hardest to make sure any concerns are resolved, and patients can talk openly and get reliable information about eyes diseases as well as the cost of glasses and contact lenses," Dr. Barton says. "We never want our patients to feel like they need to shop elsewhere for products. We have something that will fit every budget." Dr. Barton says that this philosophy has resulted in many long-term relationships with patients, and now she's starting to see her original pediatric patients bring in their own children and ask Dr. Barton about her family, as well.
Patients regularly refer their friends, family members and colleagues because of that individualized attention. "We want our patients to know that we will see all of their family members from infants to geriatrics, patients with high anxiety or those who are nonverbal. If they need any further care, we will get them in the right hands." While it was difficult to start cold with a young family, Dr. Barton says that she made her schedule work for her growing family. The office is open four days a week, Monday through Thursday, and opens at 7:30 a.m. three of the days. "We work really hard on those four days so the weekends can be for family time, not just for me but also for my staff," Dr. Barton says. "We try to have that balance to work hard and have a career, but we know that family is important because our kids are only little once."
Having Fridays free also gives her the opportunity to participate in community outreach, Dr. Barton has been involved with the Realeyes program through the Ohio Optometric Association (OOA) for several years. Just this past school year alone, Dr. Barton gave 47 presentations reaching more than 1,900 students. The OOA has "tailored the information really well and developed a specific curriculum for each age group to teach them about eyes and eye safety," Dr. Barton says. The curriculum ranges from preschool through eighth grade, and she brings the presentations directly into the classroom. "Both kids and adults often think that because they can see great on the eye chart that they couldn't possibly have an eye disease, so we go into the classroom and connect with teachers, students and school nurses. I get great feedback, and it's my way of giving back to the community that has supported me for all of these years." The OOA sends letters to schools to see if there is an interest and often contacts Dr. Barton to schedule a Realeyes session at a nearby school. Through her own community connections, she arranges many schools visits herself.