Prior to opening Vision Source® Atoscocita in Humble, Texas, Janet Block, OD, FAAO, and William Gregg Simpson, OD, had both worked in a variety of practice settings and office environments. Those experiences helped them shape their vision for their own office. "We wanted to provide old-fashioned customer service," Dr. Block says. "We didn't want to overbook patients, so we limited it to 2 exams per doctor per hour."
Because they value that time with patients so much, when the practice schedule became jammed they decided to add a third doctor, Jenny Mak, OD, rather than shorten patient visit time. Dr. Block says it's nearly time to add a fourth doctor this summer. The practice opened in 2006, "with not a single patient," says Dr. Block. And it has grown in double-digit percentages nearly every year since then.
Spending quality time with patients works well for them. Patients are greeted as soon as they arrive and are escorted to the workup room. When they are seated in the exam room, the doctor is ready for them. "Patients don't sit and wait for us," Dr. Block says. "We're able to spend more time with patients to discuss recommendations and products. And when we walk them out to the dispensary, they have the time and the knowledge to make appropriate selections." In fact, Dr. Block is convinced that this personal touch and education keeps per-patient revenues in this practice high.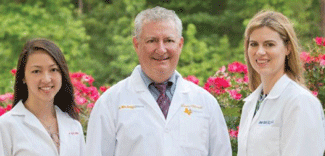 Dr. Block says that when she talks about their comparatively long patient exam slots with other doctors, they often express a concern about no-shows. If you're only scheduling 2 patients per hour and 1 doesn't show, that's a 50 percent hit on productivity. "It is a risk," she says, "but it's one we accept because we see so many pros on the other side. You can mitigate it, too, by being aggressive with confirming appointments. We also keep a list of short-notice patients whom we can call if we get a cancellation."
In addition to maintaining a clear view of the schedule, it's important that any doctor brought into the practice shares the partners' philosophy. "We spent a lot of time with Dr. Mak before bringing her on. We needed to know that she would be just as interested in learning about patients' family members as well as their needs and conditions," Dr. Block says. Indeed, the more you know about the patient and the products and services offered, the easier it is to fill those 30 minutes. "There's always something to talk about, even if it's as simple as explaining what astigmatism is. Patients appreciate being able to have their questions answered."
The other advantage to this unrushed approach is that it's quite easy to accommodate the occasional emergency patient. "I recently saw a postsurgical patient who had bilateral corneal abrasions. She went to the medical doctor's office and sat in the waiting room for an hour before she left. She came here, and we took care of her right away."
Focus on the Essentials
As part of its patient-centric approach, Vision Source® Atoscocita, in Humble, Texas, took a careful look at what staff members do and how those tasks contribute to the patient experience. What the doctors found was that time spent answering phones pulled staff away from patient care. So the practice contracts with Datappointment, which manages incoming calls to the practice. Datappointment representatives serve as an off-site extension to the practice, handling requests for appointments or answering other simple questions. Requests that require the input of a staff member or doctor are transferred to the office, but the system has cut down tremendously on the distraction of a nearly constant ringing telephone. "I get the equivalent of 3 full-time front desk people, for whom I don't have to pay payroll and health insurance," says Janet Block, OD, FAAO.
She learned about Datappointment at The Exchange in Las Vegas in 2013. The previous year, she heard from colleagues about Websystem3, another service that she has incorporated into the practice. "I learn very valuable information when meeting with Vision Source® colleagues. I can pick and choose what will work well for my practice. I've often called colleagues to ask what their experience is with a product or service. It's hard to find that kind of support outside of the Vision Source® network."