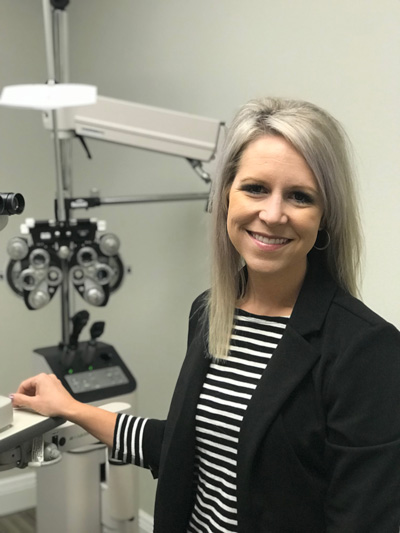 Opening a cold-start practice wasn't always the goal for Denise Hill, OD, but as she considered the options in her preferred location, the decision became clear. "I interviewed at a few places and looked at buying practices, but nothing felt right," Dr. Hill recalls. "Opening cold was the way I could do what I wanted." After her 2007 graduation from Northeastern State University Oklahoma College of Optometry, she was hired as an adjunct faculty member and filled in a few days per week in a practice as she worked on plans for her own.
Dr. Hill opened the doors to Hill Vision Center in June 2008 in a newly built professional building in Van Buren, Arkansas. Initially, she was working as a technician and optician until she was ready to build up the staff. Her patient volume boomed, and her team continued to grow. A relocation was necessary as soon as her 10-year lease agreement was up, and in June 2018, her 10-year anniversary celebration also incorporated a ribbon-cutting ceremony for the new office. It was a great opportunity to market the office's new logo and branding and introduce the community to the new location, which features an inviting, homey style complete with a fireplace.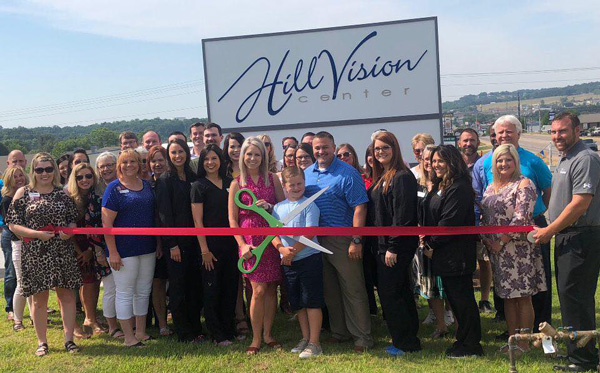 Her patient base followed her just 150 yards to the new office, and many new patients have been coming in her door since the move. "The patient reaction has been great, and we have grown exponentially since relocating," Dr. Hill says. Her first location was in a professional building with limited visibility. Now she's on a corner lot near a busy highway. "We have visibility—you can't miss us."
The new building is 8,000 square feet; Hill Vision Center uses about half, and the remainder is leased. She's doubled her exam lanes from two to four and more than tripled her frame dispensary offerings to around 1,000 frames. There's a different style in the new space, as well. Her original space had also been a new construction, so she had selected a modern look there with dark grays and black countertops. "This time I went with more of a residential look," Dr. Hill says. "I wanted a professional balance without feeling like a doctor's office." There are plenty of windows and open space. "It's flattering when people come in and are in awe over the design of the office."
During those early days and still now, Dr. Hill says that the guidance of the Williams Group and joining Vision Source® alleviated some of the stresses of practice ownership. She's been a Vision Source member for nine years, thanks to the recommendation of a friend. "The mentorship is very nice," Dr. Hill says. She regularly visits colleagues' offices to learn more that she can bring back to improve her own office. She can turn to the network, or "I can text my local administrator and ask any questions or for an opinion on buying a new piece of equipment," she says. She appreciates her colleagues' willingness to share best practices and ideas, as they network and share so that all can make their businesses the best that they can be.