When patients becomes presbyopic, their quality of life is compromised. Patients find that their old visual solutions no longer work. But it doesn't need to be that way, says Lisa Heuer, OD, of Valley Vista Eye Care Optometric Center in Woodland, California. With NaturalVue® Multifocal 1 Day Contact Lenses, she can restore, and even improve, her patients' quality of life. "One of the great things about this lens is that it has been mutually beneficial for patients and my practice, with around 75 percent of prescriptions finalized at the first follow-up. That translates to more time with my exam chair available to serve other patients," she says. Great for patients, great for the practice
Dr. Heuer began prescribing NaturalVue Multifocal 1 Day Contact Lenses in 2016. She first heard discussion about the lens on the social media site ODs on Facebook, and its distinguishing characteristics were intriguing, she says. Doctors were saying that the single-add, center-distance and extended-depth-of-focus features sounded advantageous for presbyopic patients.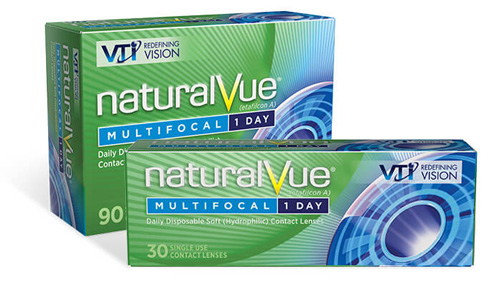 "The other ODs who had tried it said that distance vision was not degraded as it often is with other center-near design lenses. I wanted to learn more," she says. So Dr. Heuer decided there was no better way to refer her patients to this new product than through her own experience. "After completing online training for doctors who wanted a fitting set, I volunteered to test the lenses myself. My prescription is -12.00D, and I loved the lens, so I knew my patients would, too."
Presbyopes as practice-builders
Presbyopes represent between a quarter and a third of Dr. Heuer's practice. About 15 percent of those patients are wearing multifocal contact lenses, meaning that only four percent to five percent of her patients are current multifocal contact lens users. That represents a tremendous opportunity. "I start preparing all patients for presbyopic changes as they approach age 40, describing the expected symptoms and the options available to them," she says.
This advance notice serves two key purposes. First, it helps ease patients' worries as these symptoms emerge. "I'd rather my patients calmly think to themselves, 'Oh darn, this is that thing Dr. Heuer told me about,' rather than the panic, thinking, 'Oh my gosh, I lost the ability to read. This happened overnight. I'm going blind.'"
Second, the conversations about emerging presbyopia give her an opportunity to describe ophthalmic and contact lens options that can help. That way, patients enter presbyopia knowing that there are solutions to this new issue that they are facing, and they can start to form an opinion about the solutions that fit their lifestyle needs. Binocular vision benefits
"If I inherit someone with monovision contact lenses from another office or the prior owner of my office, I might say: 'Are you ever bothered by your lack of depth perception with those lenses?' Then I explain how stereopsis is compromised by monovision, but not by multifocal lenses," she says. She might also ask: "Do you feel like your computer is blurry no matter what you do?" That question opens the door to an explanation that monovision works like a lined bifocal with two distinct distances in focus while all other distances are a bit compromised.
Once patients agree to give multifocal contact lenses a try, "I am careful to set expectations for the adaption time needed for their visual system to get used to the lenses," she says.
Worth the effort
Fitting multifocal contact lens wearers may take an extra visit or chair time, but it's well worth the effort, says Dr. Heuer. "If we fuss over the contact lens prescription now and get it really dialed in, future years will be much simpler with minor adjustments. Our work will pay off." She encourages patients to be patient with the process, too, telling them, "I want you to love your contact lenses, not just tolerate them."