Maria Tantsits, OD, has been with Primary Eyecare & Eyeware in St. Louis, Missouri, for about two years. Her office manager Maggie Redmond and practice owner, Mary Murphy, OD, were handling their own billing and coding up until just before Dr. Tantsits came aboard. It was far too much work for just a person or even two, and they found themselves spending too much time submitting and following up on claims. Plus, no one in the office came from a coding background, so keeping up with revisions in coding requirements and the nuances of different software programs took time.
After meeting a VisionWeb representative at a conference, Redmond realized revenue cycle management (RCM) for the practice could be much more efficient, even if that meant outsourcing the billing services. The practice has been with VisionWeb for just more than two years, but the results were apparent from the start. "We have saved a lot of money and time," Redmond says.
Dr. Tantsits and Redmond have a designated VisionWeb representative and team that they can go to with questions or concerns. Redmond appreciates that they aren't speaking with a different representative every time but instead continue to build a relationship with her representative. This has allowed their specific goals and needs to be discussed and met. "We haven't experienced any issues at all," Redmond says. "VisionWeb representatives always bring the practice into the conversation," Dr. Tantsits agrees.
"CAN" DO DOESN'T MEAN "SHOULD" DO
Redmond recommends other members learn about and utilize all that VisionWeb has to offer on their website. She and Dr. Tantsits have learned a plethora of information about billing and coding and feel much more confident in their own skills than they used to.  However, they count on VisionWeb's team of experts to ensure that numbers are accurate and things are done more promptly.
With VisionWeb managing the claims, Redmond gains back time to talk with patients about concerns. She has set up a voicemail box for patients who have billing questions. If she doesn't know the answer, she can direct those questions to her VisionWeb team that can answer them more quickly or give precise guidance on what the next steps are.
EARNING ITS WAY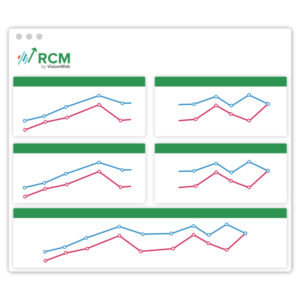 VisionWeb's payment structure is based on amounts collected, so Dr. Tantsits can feel reassured that the team is following timely payments and denials. In many practices, even well-meaning billing representatives can get bogged down in the daily to-do list, which can delay payments and impact the practice's cash flow coming in.  "They show us the most profitable and efficient ways to do things," Dr. Tantsits says. "They look out for us."
Redmond says that the VisionWeb team and her own team work seamlessly together. "It takes no extra time out of my day," Redmond says. "They're the experts. They've been a blessing for us." VisionWeb also allows Redmond and Dr. Tantsits to track claims and read detailed notes on what exactly is being done in real time. "We understand our limitations," Dr. Tantsits agrees. "Now we don't have to take time away from things we love to do, like eye exams and helping patients pick out frames. We just really love VisionWeb."
If you'd like to learn more about VisionWeb's Revenue Cycle Management services, please visit this page.