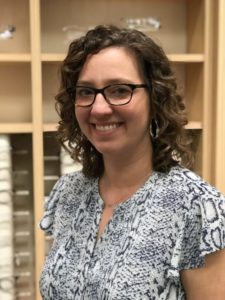 As is true for so many optometrists who opened their new practices in late 2019, Elizabeth Allspaw, OD, could not have predicted that six months later, the COVID-19 pandemic would force a closure or significant slowdown of her new Bright View Family Vision in Avon, Indiana. However, she had made one practice management shift right as the pandemic was rising that has resulted in administrative efficiency and faster reimbursement: she began working with VisionWeb's Revenue Cycle Management team to file her vision and medical claims.
Dr. Allspaw started out doing her own billing and coding. "I had never run a business before, so all of these administrative aspects were new to me," she says. Those first six months were stressful enough – starting out cold, learning how to manage an optometric practice and figuring out how to keep income coming in during a pandemic.
She says she was thrilled that she had good counsel through iCare Advisors and Vision Source, and connecting with VisionWeb gave her another solid leg to practice support. "VisionWeb began working through my accounts receivable to keep it low and keep income coming in," she says. Even though she worked hard to get a handle on billing and coding issues, there's still a lot she had to learn.
"Some of those explanation of benefit forms don't make sense. It's a very time-consuming process to review this, and there were other areas of the practice that needed my attention," she says. She is glad she dove into the process because she believes that it's important for doctors to know the basics of correct billing and coding procedures. However, she much prefers the ability to communicate with VisionWeb and manage her claim files using the ShareFile portal where she can look at EOBs, answer questions from her account representative or leave queries for that person. "My rep can communicate to me that way. I don't have to wait on a call to get someone on the phone. I can log in between patients and quickly attend to whatever is needed," she says.
Like another staff member
Moving the billing and coding process off her plate "was a huge weight lifted off my shoulders," she says. She was at the point where she needed to make a shift: either outsource this service or look for, hire, and train an in-house biller. "VisionWeb is doing it much more efficiently, and at a better cost."
Plus, there's no worry like there would be if an in-house biller goes on vacation or gets sick. In an office where only one person is in charge of the billing and coding, the outgoing bills don't get sent and any denials pile up while that person is out. "At one point, my representative with VisionWeb was promoted, but the transition to the new representative was so smooth. We didn't miss a beat while my account was moved to someone else," she says.
Dr. Allspaw says that she is also happy that she doesn't need to search for a staff member who has the specific skill set to learn how to be a biller. "Just about every optometrist is having some staffing issues, but I am confident that my billing and coding being handled by VisionWeb is rock solid."
Now as she reaches the two-and-a-half-year anniversary of her new practice, she's excited to see sustained growth. She anticipates adding myopia management to her suite of services and she says that the relief of having her revenue cycle management handled means that she can put more effort into patient care and developing her plans for growth.
If you'd like to learn more about VisionWeb's Revenue Cycle Management services, please visit this page.