In the nine years that Amy Boyer, OD, has been operating her independent practice at Walmart, she's seen a lot of changes, and the number and impact of those changes seem to be escalating of late. Dr. Boyer, of New Albany, Ohio, was elected to the board of the Energeyes Association for corporate-affiliated ODs at its annual meeting in 2016.
Since then, the organization has been busy supporting its members with different tools to build their practices, especially with a dry eye practice management session held at SECO earlier this year. "The organization is very much about leveling the platform between private practice and corporate ODs and bringing all ODs into the medical model," she says.
The advantages of involvement with Energeyes Association are that Dr. Boyer, along with her fellow board members, can help new doctors jumpstart their independent practices, and it shortens the adaptation curve for doctors new to a practice setting that is co-located with a Walmart Vision Center or Sam's Club Optical.
Dr. Boyer also has traveled to Johnson & Johnson Vision recently to attend lectures on several trending topics, including the Ignition program, an Energeyes program designed to help member practices fully implement the medical model. This innovative program combines the RevolutionEHR software and clearinghouse services for billing for 12 months, as well as helps doctors become credentialed to participate with Medicare and Medicaid.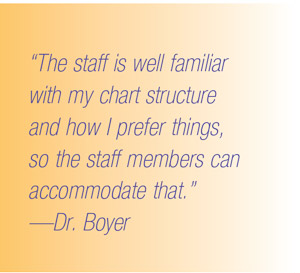 She's developed a network with some of the hospital programs in the area that will help patients with diabetes who have no insurance. "We're seeing people coming in for annual eye exams, and we're also seeing more patients with diabetes," she says. With these shifts, Dr. Boyer is also considering adding new equipment to her office. "As I expand in medical billing, I'm looking at my options for an electronic health record system and an optical coherence tomography unit and camera," she says. "It won't be easy implementing
medical billing, but we are already providing these services. We're consulting with patients and talking about allergic conjunctivitis and prediagnosing glaucoma, diabetes and hypertension." She says that a review of the medical history of many of her patients has shown her that, often, she's the only health care provider many of her patients see. The accessibility of her independent practice inside a Walmart certainly plays a role, she says.
She believes that being able to provide a fuller scope of services will help her direct her patients to the care they need more quickly. The coordination with staff is critical; on busy days, she may see 20 patients, and about half, typically, are contact lens patients. The relationship depends on good communication, she notes. As a leaseholder within Walmart, part of the fees she pays to the company is for staff help in tasks such as patient intake and pretesting. "The staff is well familiar with my chart structure and how I prefer things, so the staff members can accommodate that." Staff members do a great job gathering as much information as possible prior to bringing the patient into the exam lane.
For example, the more data they can gather about a child's previous eyewear prescriptions, the better she can understand the trajectory of that patient's refractive trends. "By the time I see the patient, I have all the pieces of the puzzle in place. That's how I can get through a busy day," she says.