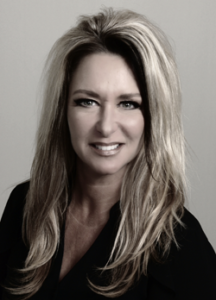 Jennifer Landa-Geertz, OD, started as an independent OD practice owner inside a Walmart near Chicago, Illinois, nearly 20 years ago. At one time, she had three practice locations; for the past decade, she has maintained two offices.
It's been a great career choice for her as she has built these practices and been part of the optometric community. When the coronavirus reared its ugly head and the Centers for Disease Control and Prevention and American Optometric Association issued recommendations, Dr. Geertz chose to close her practices to all but urgent and emergency care. While she came into the office to address pressing issues, the three other doctors who work in her practices were not working in early April. They all have young children at home, and the doctors were encouraged to identify their own level of comfort with the decision, she says.
THERE FOR THE PATIENTS IN NEED
Many people—in and out of the health care field—are feeling the stress from disruptions and uncertainty caused by COVID-19. This is an especially important time to go the extra mile for others, says Dr. Geertz.
For example, recently, she was taking advantage of her newfound free time, riding her Quarter Horse, Scotch, when she received a message from a staff member. A distressed patient was worried about an increase in flashers and floaters. Within the hour, Dr. Geertz was able to examine the patient and ensure that it was not a serious retinal issue. The patient was so grateful for her presence and reassurance; between his ocular migraine and the recent stress of being laid off from his job, Dr. Geertz was able to reassure him that he was not having an ocular emergency. "We have to remember that all this anxiety, concern and uncertainty about COVID-19 can affect our health in other ways. Fear can have physical manifestations on all the body's organs," Dr. Geertz says. In addition, patients have fears about the virus and ocular complications such as conjunctivitis. Triage skills can be an essential part of caring for the community and potentially preventing unnecessary trips to the emergency room.
CALLING FOR BACKUP
According to Dr. Geertz, Walmart has been ready to adapt as well as be supportive as the situation unfolds. "From the beginning, Walmart was focused on the health and safety of associates, customers and optometric community. When it reduced hours in Vision Centers and focused on essential/emergency services only, the company offered Vision Center associates the opportunity to continue to serve in essential areas like the pharmacy," she says. "Many have chosen to take that opportunity. They have been wearing their Vision Center white lab coats—which is generating questions and exposure and can help patients whose contact lens supplies are dwindling or whose prescription may have just expired. We are all helping in any way we can so they are not struggling with eyewear and eye care."
That kind of attention and willingness to remove one more stressor from patients' daily lives is engendering goodwill. "We are making patients happy because we care." This happens to be her office motto—"See why caring is contagious"—written before "contagious" became such a scary word.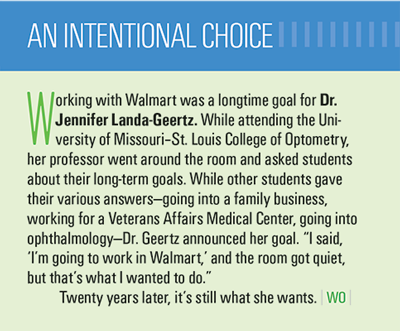 PART OF A NETWORK
Dr. Geertz has served on the Walmart Advisory Board for Independent ODs since 2005, and being in that role when COVID-19 concerns erupted was reassuring. She had a chance to speak with colleagues around the country, as well as her Walmart Health and Wellness contacts. They shared their own experiences and what they were hearing from doctors in their area. "It's good to be part of a community that knows Walmart is listening to them," she says.
It's also good to have people with whom she can share recovery ideas. "I am confident that things are going to get better," she says, acknowledging that some aspects will be different. For example, initially, she plans to keep her patient volume down to one patient per half hour to limit exposure in the office area. "I have been thinking more about telemedicine and how that can work," she says. She did have one longtime patient send her a photo of a recurrent "stye" so that she could visually observe the lesion and make sure it wasn't something different. "We did not have that option 10 years ago," she says, so she is curious to see what the applications for new technology might be in her practice in the future.
The way that eye care is delivered in the future will possibly change, she says, but her 20-year relationship with her patients and working inside a Walmart setting make her feel like she is ready for what comes next.