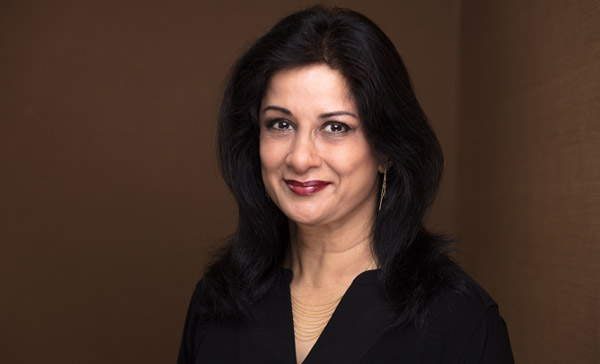 When Naheed Ahmad, OD, completed her optometry degree at the University of Waterloo in Canada, the push to go into an independent private practice was strong. "I joined a great private practice, but it wasn't the right fit for me. It didn't click." It was a challenging time in her life, too. "I thought I'd take a lease for Walmart for a year and figure my life out. As time passed, I realized I really enjoyed practicing this way. I didn't have to concentrate on the dispensary, which allowed me to concentrate purely on my patients," she says.
That was 17 years ago, and Dr. Ahmad has operated her independent practices inside Walmart in Roswell and Dunwoody, Georgia, since then. She has taken on the role of not only providing the best patient care possible, but she also has stepped into an advocacy role for corporate-affiliated ODs as president of Energeyes Association. She has been involved with the group since its founding four years ago.
"We've been under-recognized as corporate ODs. We did start out as a group of Walmart-affiliated ODs, but we quickly realized that other doctors who hold a lease or work for a leaseholder have many of the same concerns that we do," she says. The organization has grown tremendously in its size and scope. It now holds three national meetings a year, one of which coincides with SECO, which many members attend. "Members receive a free website, CE, courses on billing and coding and networking opportunities," she says.
Creating connections
"The growth has been driven by a desire to do our best to help our colleagues get more done," she says. "Some doctors can feel isolated because they don't know who to turn to." The association is there to help any lease-holding OD be more efficient and gain a greater reach by connecting with ODs like her who have been highly successful—and are still learning—in similar settings. "I'm able to set my own schedule. I dilate patients. I can diagnose anything and everything that my colleagues in stand-alone practices can," she says. She has added a fundus camera and OCT to both of her offices.
Dr. Ahmad has served on professional advisory boards for Walmart for the same reason: she wants to see new independent ODs do well. Now Energeyes Association is gaining clout. For example, a team of Energeyes members has been working with vendors of point-of-sale systems for doctors' offices, as independent ODs with practices in Walmart locations will be purchasing these. "I have spent hours on the phone, and I recently had five phone conference demos and conversations in two days. If I were doing this just for myself, I'd talk to a few friends and try to make a decision based on that. But there are important considerations, and because we know that these purchases are going to affect thousands of ODs, we're willing to spend the time on it," she says.
Mentors are key
Energeyes Association meetings draw students and new graduates who are considering a move into a corporate-affiliated practice. "We want them to know what to expect. For a reduced rate, an attorney can look over a contract. We'll provide a mentor who works in the same franchise and corporation so that there's someone who is very familiar with their situation," she says.
She's been in that mentoring role herself. "It's nice to see someone to whom you've given advice succeed," she says. Her single best tip: talk to patients continuously. "The difference between a good and a great OD is not education; it's communication. You can provide patient education even while you're doing your exam. Don't sit quietly at the slit lamp, but explain what you're looking for and what you see—or don't see. I can't tell you how many patients have told me that they've never had as thorough an exam, and I'm certain that their previous OD did the same procedures. But the difference is that now the patient knows what I did."