Julie Phan, OD, has the mindset of a business owner. She has a history of finding lucrative opportunities that others might pass over.
A case in point is her independent practice inside a Sam's Club warehouse in San Bernardino, California. "It's a low-income community with a lot of patients on state assistance," she says. Yet she has been running her practice, Premiere Eye Care Optometry, profitability and efficiently.
"I left an employed situation to take on this sublease because I saw the business opportunity," she says. "I could see that I had an opportunity to build it, and while financial success wasn't guaranteed, I felt like I could do it."
FILLING A VOID
First, she realized that she would be filling a critical need in the community's health care. Some providers avoid patients on state or federal assistance, which can lead to deficiencies in health care access for these communities. "I care about these patient populations. When I began my practice, I was determined to keep my focus on my patients and serving my community." She saw her practice as a calling.
Patients recognize that level of commitment. "They say, 'You treat me like family.' They are so accustomed to having four minutes of a health care professional's attention, and they really appreciate that we take time with them," she says.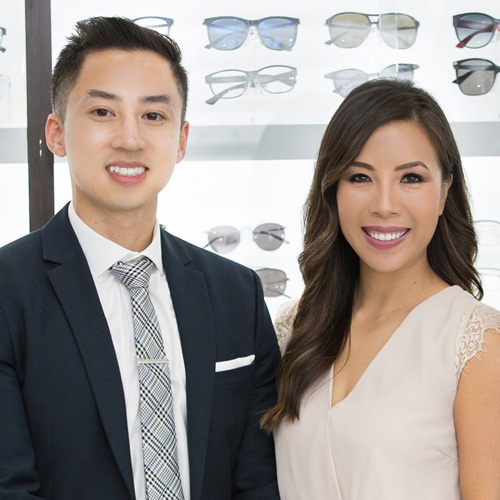 Quality time spent with patients also results in return visits and word of mouth referrals—many of them covered by the patient's medical coverage. "If you have the energy and you care about the population, you can turn a location into a successful business," she says. She and her husband, Toan Nguyen, OD, who also have an independent practice together, visited family practitioners in the area, explaining their services, including providing eye exams for patients with diabetes. This area has a high percentage of patients with diabetes and also patients who have dry eye; both of these conditions bring patients in regularly for management of their chronic ocular conditions.
Now, they're seeing those patients every year—and for some co-management cases, more often than that. "The medical plan that most of these patients are covered through pays well for medically indicated services such as glaucoma management and diabetic retinal exams. These services are covered entirely by the medical plan, so patients have no disincentive to return for their next appointment. I tell them there's no cost to them." The specific Medicaid carrier that covers her region pays with no prior authorization, offset or HMO designations, so her paperwork is straightforward.
As careful as Dr. Phan is about numbers and tracking metrics now, that's a factor she didn't take into consideration when she first started the practice. "I was lucky to be in an area that has good state funding because not every Medicare plan is the same." She now advises ODs to take a careful look at the carrier's policies and reimbursement allowables because it is an important consideration.
EXPANDING THE PATIENT BASE
In addition to serving lower-income patients, her area is also home to a lot of veterans and the Club is less than two miles from both the California University of Science and Medicine and Loma Linda University and hospital. "We see the medical students and residents every year until they graduate, and hospital and university employees are our patients, too."
Dr. Phan says that at first, many of the Sam's Club customers weren't aware that the optical and optometry offices were there. But she quickly made it her mission to get online—and now it's common for patients to say that they found her on Yelp or Google with positive reviews driving patients into the practice. Connecting with students and being part of community health fairs and events have also helped her grow the patient base.
It's important to track metrics to measure your progress, she says. "We track our per-patient revenue, our daily revenue and our percentage of contact lenses. We've been looking at those numbers every day for the past five years," she says.
There's been significant growth in a number of areas: from 40 patients a month in the early days to 280 patients per month now. She's expanded doctor coverage from two days a week to five. And contact lens patients increased from 12 percent of the patient base to 35 percent now. Forty percent of her patients return to her year after year.
While routine care dropped off in March and April as the country responded to COVID-19, it's picking back up. The practice is seeing a renewed interest in contact lenses. "We now ask all of our patients if they want to talk to the doctor about contact lenses or LASIK consultations. So many people say yes because it makes it easier to wear a mask," she says. She anticipates that renewed interest in contact lenses will remain high.
Ultimately, Dr. Phan's entrepreneurial mindset has enabled her to establish a successful practice in an area that other optometrists might have passed over. By networking, leveraging a strong online presence and providing comprehensive care management, she has vastly improved her per-patient revenue, allowing her to spend more time with patients ensuring they receive the best possible care. By keeping the patient as the first priority, her practice has grown substantially.
Presenting the Full Treatment Plan
Dr. Julie Phan trained her staff in how to present the full treatment plan, including her recommendation for contact lenses, so patients understand the complete picture. She finds it critical that that all patients understand exactly what is covered by their insurance so that they can make informed decisions regarding their health care. Even after five years, she role-plays with staff, allowing her to tweak her presentation and ensuring that staff feels comfortable with explaining costs in a clear manner. "If they say, 'Well, your exam is $__ and your eye drops are $ __,' patients feel like they're being sold extras. Instead, they can say, 'Your doctor prescribed contact lenses, eye drops and a heat mask for your dry eye and new eyeglasses.'" The staff can then explain the cost for the exam and any other services or products she offers, as well as insurance coverage.
The resulting higher per-patient revenue that comes from managing medical issues, dry eye and contact lens fittings means that she can spend more time with the patients she has. "If you can double your per-patient revenue, you only need to see half as many patients. They'll be happier because of the time you spent with them and the education they received. If you're rushing, they feel like a number," she says. And she never wants her patients to feel like a number.