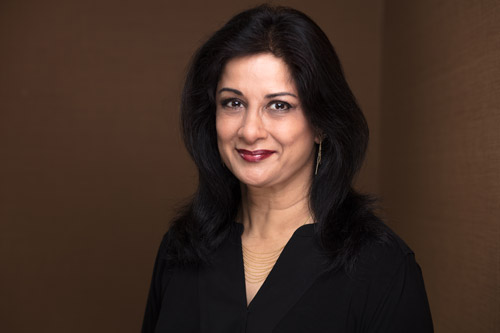 By Naheed Ahmad, OD, Roswell, Georgia
Driving home 19 years ago from my work at a wonderful private practice in the Atlanta area, I saw a sign for a Walmart Supercenter coming soon. Although my colleagues and the working experience at the private practice were wonderful, I wasn't happy—personally or professionally. It was a difficult time in my life as I was a newly single mom to two daughters, and I needed more freedom and find a better way to work. I contacted the Walmart district manager and discussed the lease opening, but I didn't tell him I was looking for a break. I expected to practice at Walmart for maybe a year or two to get myself on solid ground again, but today, 19 years later, I cannot imagine practicing anywhere else.
Shattering stereotypes from the start
I asked the typical questions, reflecting how much I had been influenced by what I thought practicing optometry inside a retail venue would be: How many patients am I expected to see? What are my hours? How much do I charge patients? The district manager said, "You signed the lease for five days a week; you decide the hours, the patient scheduling and the services you'll provide as you're therapeutically certified."
I soon began to see the opportunity for building a very successful, full-scope practice within the walls of a Walmart store. Here are some of the strategies I used to build the practice.
Be assertive: Signing a lease means you're opening a business. Make the decisions that are best for the patients and the practice. I chose to be medically oriented, seeing patients for refractive and medical eye care services. I see patients for foreign body removal and red eyes, and I co-manage glaucoma patients.
Welcome walk-ins: Although my practice today is much busier than it was when first starting out, expect and welcome walk-ins. Even on my busiest days, I'll try to accommodate the urgent walk-in patient. My staff may also suggest that the patient who wants new eyewear can go make that selection now, which will speed up the process in a few days when we finish the exam.
Get to know the patients: At the start, when I was less busy, I would wander around the Vision Center and the store, willing to answer questions from customers and Walmart associates. It's a great way to build a patient base and raise awareness.
Be accessible: As with getting to know people in the store, identify the businesses in the area that might appreciate knowing you're there. For example, my practice happens to be within range of a large number of car dealerships with service departments, and I've introduced myself to all the managers. If a mechanic gets a foreign body in the eye, the manager knows to call me, and we will get that patient onto the schedule quickly.
Put patients first: I appreciate that I'm not selling products and can focus on the patients' needs. I'm never worried about the inventory on-hand or materials I have in order to meet a quota; my recommendations are solely determined by what is best for the patient.
Be a contact lens specialist: The percentage of patients in my practice who wear contact lenses is high because I am seen as an expert. I fit patients with keratoconus with scleral lens and specialty lenses, and patients know that I'm willing to work with them to ensure a great fit. I don't categorize patients as contact lens or eyeglasses patients; there's no reason they cannot be both. Building a contact lens practice, with the accompanying higher professional fees, is also a great way to build the practice.
Don't prejudge patients' ability or willingness to pay: I see patients who don't have medical or vision insurance and are drawn to my practice because of the value I provide to my patients. Many of my patients also come to me because they see me as their trusted neighborhood OD. I'm not charging the lowest exam fee, but I'm reasonable, convenient and visible.
Dr. Ahmad is also the immediate past president of the American Association of Corporate Optometrists.