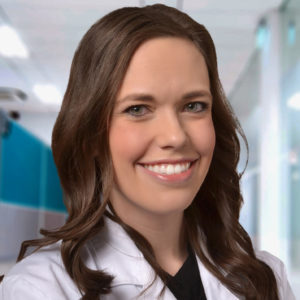 Five years ago, after the birth of her son, Stephanie Pisano, OD, FAAO, FSLS, returned to her full-time position as an optometrist and associate professor with the ophthalmology department at The Ohio State University Wexner Medical Center. She spends 85 percent of time in the clinic, seeing referrals from the corneal specialists or other eye care providers and fits specialty contact lenses for those who have had eye surgery or congenital conditions. She is also the division director for all ODs in the department and works with optometric residents as well as optometry externs and ophthalmology residents.  "I fully expected to come back to the same schedule after maternity leave," she says, which was to see patients five days per week from 8 a.m. to 5 p.m. and spend several extra hours on other obligations from meetings, research, presentations, training students and residents and more. Yet the schedule that had been manageable before had a totally different feel for a new mom who was running on little sleep and trying to figure out a new work/life balance.
A VOICE OF REASON
One of Dr. Pisano's first patients upon her return was a doctor, who asked her about her experience so far as a new mom. "It is hard, and no one talks about it," Dr. Pisano recalls. She was honest with this patient, who gave her some advice about trying to adjust her schedule to make sense for efficiency yet wouldn't make her push too far towards burnout. This patient explained how she shifted to four clinic days and one admin day per week when she herself became a mom.
Dr. Pisano printed out her schedule and took a closer look, wondering if she, too, could make this adjustment. Was it doable? She turned to her husband, a CPA, to help her analyze the data of working four longer days instead of five. "He told me to show them this isn't going to jeopardize revenue for the department, access to patient care, or compromise patient satisfaction." There was already a surgeon who saw patients at 7 a.m., so the front desk staff would already be there at that time.
She prepared an Excel spreadsheet and notes and then requested a meeting with her department COO. And what she anticipated as an intimidating conversation went quite smoothly, Dr. Pisano says. "He agreed and had no reservations," she says, adding that they decided that they would monitor to make sure those early slots were filled on the schedule. But there were no issues there either; in the beginning, Dr. Pisano spent time calling patients with 7 a.m. appointments the day before to remind them, and that helped keep everyone on time, she says.
A RIPPLE EFFECT
Dr. Pisano says that after she made her schedule change, other doctors in the department approached her with an interest in doing the same. In the time since then, there's been a transformation: "Most parents with younger children in our department work a four-day clinic schedule," Dr. Pisano says. And that doctor who impacted Dr. Pisano's outlook on managing career and motherhood? Dr. Pisano still sees her today. "I thank her when I see her for how she changed how we do things and made it much more feasible."
This shift has allowed a much better balance, Dr. Pisano says, and she no longer feels like she is dropping the ball on some part of her responsibilities. On her administrative day on Thursday, she can catch up on non-patient work related obligations, appointments and events for her son and not have to spend her weekends doing work when she wants to be with her family. "It's really difficult to have that conversation, but if it's something you truly know will help in your mental well-being and family balance, it will only make you a better doctor and colleague," she says. "You can be in a better frame of mind and not feel as stressed or burnt out to make it all work. You can have a better balance."
Just recently, she made an adjustment to start at 7:30 a.m. instead of 7 a.m. for her son's school schedule. In exchange, she stays 30 minutes longer at the end of the day. "It's constantly in flux what we need as a family and what I need to get done. They are always okay with it because they know it's worked for so long. We do what we have to do."
After all, Dr. Pisano has a long history with the department. She completed her residency with the department from 2014-2015, focusing on ocular disease and contact lenses; she was inspired to pursue this route after an extern experience where she recognized a patient had keratoconus, fit her in a gas perm lens and improved her to 20/20 vision so the patient could avoid surgery and get her drivers' license. "The concept of specialty contact lenses was not my favorite in optometry school, but seeing how life changing specialty contacts are in real life and watching the reaction on a patient's face after putting their lens in for the first time is what makes it all worth it." Her final residency presentation to the team of ophthalmologists and optometrists in her department was actually her job interview—she just had no idea, which took some of the pressure off, she says, laughing. "They wanted to keep me, and I had no idea. They agreed that they would hire me if I wanted to stay."
WANT TO HAVE THIS CONVERSATION?
Dr. Pisano says that it's important to be objective in your presentation and base it on the facts. "I could show the data it would work," she says. "Be realistic and be willing to modify it if it doesn't work." In her case—as well as the other parents in the department—it has seamlessly worked out, and no one has had to go back to their old schedule, she reports.
Have a question for Dr. Pisano about this schedule change concept? Connect with her on Instagram. @drstephpisano