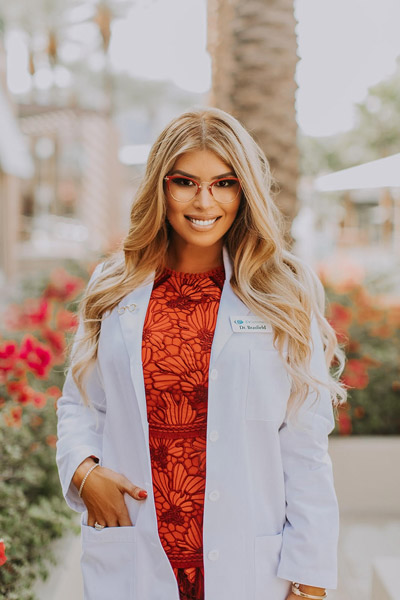 Athena Brasfield, OD, grew up in the optical industry. Her parents, both opticians, took her along to the optometry practices where they worked on Saturday mornings. "I'd bring my teddy bear and watch cartoons," she recalls. When the
optical chain closed, her parents purchased it, and years later, when Dr. Brasfield was in optometry school, the original plan was that
she might go back and work with them. But following her 2007 graduation from University of California Berkeley School of Optometry,
she wanted to gain some experience—and stay in the San Francisco Bay area.
She joined a practice where she gained terrific experience but felt like her career wasn't advancing. She resigned and decided this was a chance to try something very different. She was hoping to move further south in the state, but Los Angeles was saturated, so she looked at a practice in Coachella, a desert community 120 miles from Los Angeles and nearly the same distance to the Mexican border.
She had spoken with another OD who was eyeing retirement at one point. His practice was the only one in the area that accepted Medicaid, and while it wasn't a glamorous practice, Dr. Brasfield saw the need. "When we first talked, I told him I couldn't possibly make a move for several months, but [after another plan fell through], I called him and said I could start in two weeks," she says.
The transition was a little bumpy. First of all, her Spanish had gotten rusty. "I didn't even know how to say, 'Please take off your hat.'" Plus, the previous practice she worked at in Silicon Valley was a well-oiled machine that had the highest level of technology. "At
this new rural office, there was hardly any medical management, and all patients with disease were referred out. We had a population
here with a 25 percent incidence rate of diabetes and no way to monitor these patients," she says.
She knew that with the right instrumentation, she could keep these patients in-house. When the doctor was ready to sell, Dr. Brasfield and her husband were ready to buy. They sat down with the staff of nine and shared their vision for what the practice could be—a high-tech, full-service and high-volume practice. If staff members wanted to stay, they needed to be on board with that idea.
She had significant help from her husband, an attorney, who served as an office manager previously. She calls herself the visionary and him the mastermind who executes the ideas. They brought in technology and a team of new doctors who were passionate about providing excellent care to a population that doesn't have access to it. "These are not the patients who live and visit the fabulous resorts just 20 miles away. Our patients are the ones who tend to those golf courses and hotels and the resort living. Our mission is to close the disparity in access between the two communities," she says. The practice, now with three full-time associates and a staff of 30, sees 20,000 patients a year.
"We see more advanced pathology here than I did at any other practice. The community appreciates the education and the level of service. Medicaid patients are accustomed to waiting three or four hours to be seen by a provider, but we try to keep our waiting times down to what you'd see in any modern clinic," she says. It's been good for the patients, of course, but it's also been good for Dr. Brasfield. "We have been very fortunate to be profitable because we're able to provide medical care. Amblyopia rates are high, so we start the young population with patching and vision therapy; California does not have a requirement that young students need an eye exam, so many of our patients have high plus and high astigmatism corrections. My associates and I commonly see +6.00D and -5.00D teenagers who have never had eyeglasses. There's no public awareness." The two-location practice, in Indio and Coachella, has created a marketing campaign for primary care and pediatric offices to encourage parents to have their children's eyes tested.
"It's hard work. Our doctors see 20 patients a day on average, but we can do that because we operate smoothly, delegating as much as possible in pre- and post-exam work to the technicians," she says. Other than the ODs, the staff members are from the community. "They see their work here as something exciting. They're able to be part of a professional community, and they're passionate about it."
So is Dr. Brasfield. "I've worked in other settings where the work was rewarding, but it's more rewarding working here in this
community."