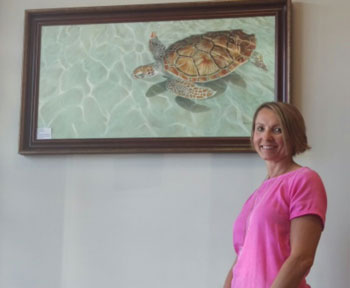 For the 12 years that Susan Dreyer, OD, was working for a Pearle franchise owner in St. Louis, Missouri, she was very happy. She had professional satisfaction and time to spend with her artist-husband and three children, now 20, 18 and 15. But when the owner sold the practice, she decided she didn't have an interest in buying it. So she thought she'd have to start another search. Instead, Dirk Massie, OD, bought the practice, converted it to an independent practice and asked her to work at the new Performance Eyecare location. So she's in the same building, treating many of the same patients, but just about everything else is different, she says.
"It's been a fundamental shift and a huge learning curve in terms of learning how to enter patient data into an electronic medical
records system and managing more of the medical procedures and billing," Dr. Dreyer says. She had worked in multidisciplinary locations
earlier in her career, so the procedures and testing weren't new to her, but the coding was. Her previous employer didn't accept
medical insurance. "I love providing medical eye care. I didn't realize how much I missed it when I wasn't doing it. Dr. Massie was invaluable in teaching me the ropes, and now it feels like second nature."
The emphasis on customer service is also different. "The new practice is completely in line with what I have always believed are the fundamentals of excellence in optometry: listening, thoroughness and solving the patient's problems." As the only doctor in the
office, she helps set the example that the practice puts the patient first. "I've regularly dropped off contact lenses at patients' houses if they live near me. I know it's more convenient for them," she says. When she found an area of concern during a patient's dilated exam that she thought required an immediate consult, the patient felt uncomfortable driving to the ophthalmologist's office. "Someone from the staff drove her. When we call and ask patients how they're doing with their new eyeglasses, they appreciate that concern," she says. And when another patient's car got a flat tire in the parking lot, one of the office staff members put on the spare. "Patient care means caring for the patients as people, which includes more than just their eyes," she says.
Dr. Dreyer says that she's thrilled with the opportunity to keep working in the community in a career she loves. She is married to an internationally recognized wildlife artist and displays some of his works in her practice to make the experience of her patients just a little bit different than the norm.