This story originally appeared in our June 2009 issue. Visit Dr. Wesley's website for the latest information on her practice.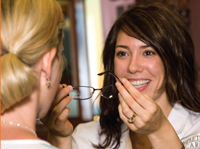 When Gina Wesley, OD, MS, FAAO, graduated from The Ohio State University College of Optometry in 2006, she expected to go into private practice. She just wasn't sure where to turn. "I didn't have any other family member or benefactor that helped me; I don't come from a family of optometrists. I didn't have any sort of great deal when it came to my lease or my building," she says. "I just plain did it on my own."
Dr. Wesley has been on the lookout for opportunities, and she's made the most of the ones that came her way. That's true
even of starting the practice. While employed at another practice, she realized she had a chance to open her own practice in Medina, Minn., where there were very few optometric practices. The process of finding a building, negotiating the lease and getting started took about nine months. In April 2008, Complete Eye Care of Medina was open for business. She's continuing to work at the other practice while she builds her own, but she's pleased with the progress to date. Her practice is now open about 35 hours a
week, plus two Saturday mornings a month. Dr. Wesley sees patients about two-and-a-half days a week. "Every month is usually a little better than the one that came before," she says.
Because she opened her practice just as the recession started to show its color nationwide, she's not sure whether she would have grown faster had the economy been stronger. "I have nothing to compare it to," she says. "Maybe several years from now, I
can look back and see the impact." But even with just one year of experience under her belt, she can see the impact of some of the actions she took. Dr. Wesley shared some of the progress she's seen in her first year of practice and to what she attributes her steady increase.
For example, last October, she began doing more networking in the community and had her first big frame show. The result: nearly 50 more exams than the month before. December's increase was due to effective spreading of the word that end-of-year benefits should be used before they expired. This past March, she joined a local business networking group and saw immediate referrals from
that. And in April, she began seeing patients return for one-year visits, held a one-year anniversary trunk show and was featured on local television.
Dr. Wesley says she wants to encourage other young O.D.s, especially women, to consider private practice. "It seems that they get scared because they think that they can't handle the challenge professionally or financially," she says. She suggests creative ideas—such as opening with another woman to share the load. Dr. Wesley has written a four-part series summarizing the planning, negotiations and preparation to build a practice from the ground up for New O.D. magazine.