After nine years on the faculty at the New England College of Optometry (NECO), Elise Harb, OD, MS, FAAO, decided to relocate back to her hometown in the Bay Area of California in 2014. Eager to reunite with her family, she says that she was also looking forward to building her independence as a clinician scientist when she joined the team at the University of California (UC) Berkeley School of Optometry.
Dr. Harb also conducts her research on myopia, specifically focusing on why children develop nearsightedness, the role of human
behavior and uses of novel technologies to understand better how they might be related. For the past two years she has participated in the Clinician Scientist Development Program, which is funded by a National Institutes of Health (NIH) institutional grant (K12). Dr. Harb just applied for individual funding through an NIH K23 grant for patient-oriented clinical research.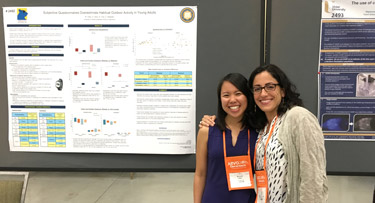 The research is still in its initial phase as Dr. Harb and undergraduate and optometry students work with the UC Berkeley student
population. By this age, "although they have already developed their myopia, they are known for progressing," Dr. Harb explains.
Participants are fitted with a wearable technology device with a light sensor, like a smartwatch, that they wear during the study. "It records how long they go outside and the light they experience, and it also gathers information about how much near and intermediate
work they do."
Ultimately, Dr. Harb expects that this method will work well when the technology is ready to be applied to children, which is the long-term plan for the study. "It's a watch that can be worn by a child and the behaviors can be looked at prior to developing myopia
to determine which behaviors might be causative." Dr. Harb has been studying this area for the past 12 years, as she completed her master's degree in vision science and continues to do so now as she earns her PhD in vision science.
In addition to her work at the school, Dr. Harb participates in the mobile eye clinic with the See Well to Lean Program of Prevent Blindness Northern California, working with preschool students who fail a vision screening. For the past decade, Dr. Harb has also been the lead optometrist on medical mission trips to underserved areas in Nicaragua, a joint effort with Williams College in Williamstown, Massachusetts. Her connections to the clinical side of optometry help to inform her research work. She hopes that the research outcome will impact the profession at large and help develop protocol and strategies for primary care optometrists to use in their daily practice when working with children with myopia.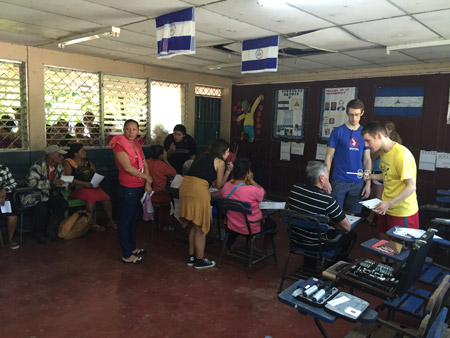 Leaving Your Impact as a Mentor
Dr. Elise Harb recalls the impact that having Stephanie Krok, OD, as a mentor had on her career. "I was about two years out of college and working in an MD/OD office, trying to figure out what to do with my life," Dr. Harb says, laughing. Dr. Krok helped her realize a focus for her career in optometry and pediatrics, and later, during her time as an OD student at New England College of Optometry (NECO), Dr. Harb developed her passion for clinical research. Following graduation from the OD program in 2004, Dr. Harb earned her master's in vision science in 2005. "I started understanding the importance of evidence-based medicine and how challenging and rewarding research can be, especially when combined with clinical practice."
Dr. Harb mentored many students during her nine years on the faculty at NECO, and she continues to do so at University of California Berkeley with undergraduate and first-year optometry students.
She says that she hopes to explain to them "why we need research and how it impacts clinical practice and the patient in the chair. Even if they decide this is not what they want to do, they no doubt will become better clinicians who are able to think more critically and practice in a more evidence-based way."