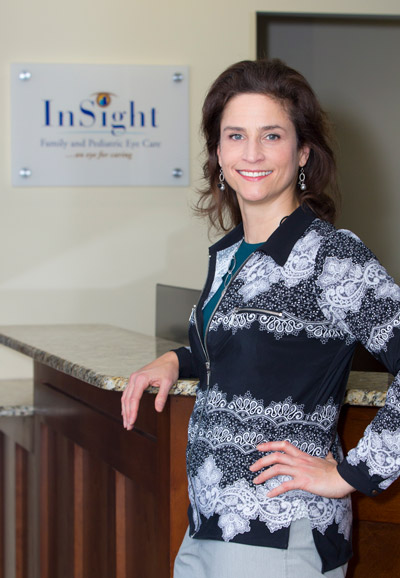 The journey to practice ownership, especially as a cold start, is a challenging one. It wasn't the original plan for Julie Belanger, OD. "I wasn't married and as a first-generation optometrist I didn't have family resources or external finances to fall back on," she says. She had learned in a business class at The Ohio State College of Optometry about the appeal of the Raleigh-Durham area in North Carolina, so after a binocular vision and contact lens residency at The University of California, Berkeley and gaining experience, she relocated.
Dr. Belanger started working at a LensCrafters in Raleigh in 2008 while looking to join an optometry or ophthalmology practice but nothing fit just quite right. As the economy took a dive, Dr. Belanger came to the realization that a cold-start practice was the next step. She began scouting out the best place for her future practice. "I wanted to work where I liked the people," she says, so she started making note of where her kindest patients lived. She started noticing a pattern and found herself checking off the community of Clayton time and again.
Dr. Belanger visited Clayton on the weekends, researching traffic counts and identifying the best major roads to find an office location. She found a stand-alone building with a shell suite that wasn't listed as available but Dr. Belanger took initiative to scout out the landlord and knocked on his door. "He was really taken aback; no one had done that," she says, laughing. After a few months of negotiations and correspondence, the fifth bank she approached finalized her loan and the lease was signed in early 2011.
The outfitting of the space moved quickly, Dr. Belanger says. "The good news is that a lot of people were looking for work." They transformed the 1,800-square-foot space to have three exam rooms with a traditional, professional office space incorporating browns, blues and earth tones. The two exam rooms would be for primary care and the third for specialty testing and services. Dr. Belanger had decided to integrate binocular vision care and scleral lenses for keratoconus; she likes the idea of the ability to create varied, customized treatment plans coupled with problem-solving. "Strabismus and diplopia excite me. Glasses, scleral lenses or vision therapy may be the solution, but it also may elude to something more serious," she says. Offering a wide spectrum of treatment was her pathway to a fulfilling career.
She began introducing herself in the community to local medical professionals, which she says was the most effective form of marketing she tried. There are three pediatric offices nearby and some of these doctors have been great sources of referrals for patients with amblyopia, strabismus and double vision. Local community groups connected her with local businesses and schools and her relationships with colleagues in the North Carolina Optometric Association were meaningful.
InSight Family and Pediatric Eye Care and its team have grown from one staff member to two full-time and one part-time. By the five-year mark, Dr. Belanger left the outside office where she had been employed to dedicate all of her time to the business. She's been able to upgrade her technology over the years, too, expanding from the visual field and HRT that she started with to a retinal camera and then an edger. On her the wish list: an OCT and a new autorefraction system with pachymetry and topography.
"To be successful, you need to want it to your core," she says. In the beginning, she struggled to understand all of the ins-and-outs of this hybrid business, which combines a medical side she was familiar with as well as an unfamiliar retail environment. Finding the appropriate resources to educate and train her staff was also a challenge. "I have called it civilian boot camp. Initially it was physically, mentally, emotionally and financially formidable."
While the earlier challenges were tough, there's always been a light at the end of the tunnel: her loyal patients. Her earliest young patients are growing up, getting their drivers licenses and going off to college, and it's been the greatest reward seeing them, and their parents, each and every visit. The front desk can often hear Dr. Belanger laughing with them. "It's been wonderful to be supported by patients who appreciate the time you give to them and who want your practice to succeed."