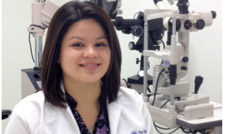 This story was originally printed in our November 2013 issue.
In 2008, Laura Martinez, OD, was on track to become a nurse when she was introduced to the Focus on Your Future summer program at the Illinois College of Optometry (ICO). The all-expenses-paid program was designed to give minorities who are underrepresented in optometry a closer look at the profession. It's open to students in the first few years of their undergraduate studies. While she didn't know much about optometry or the program, Dr. Martinez applied and was accepted.
Over that week at ICO's Chicago campus, Dr. Martinez was inspired by conversations with students, faculty and ODs. Many of those attending the program were the first in their families to consider graduate school or college, Dr. Martinez explains, and Focus on Your Future provided a perspective that they wouldn't get otherwise. "We looked up to the students because they told us, 'This is something you can do, too,'" she says. "You start to believe that you can do it yourself." She sat in on classes and shadowed an OD in his office for a day, and "it opened my eyes to what my world would be like if I became an optometrist."
Around the same time, her mother, who has diabetes, was referred to see an optometrist for regular diabetic eye exams when she began having trouble controlling her condition. That visit impressed Dr. Martinez, and combined with her Focus on Your Future experience, she decided to change her undergraduate major to begin earning credit for optometry school prerequisites.
Dr. Martinez graduated in May from ICO and is one of three ICO graduates who went through the program. Altogether 12 of the 96 Focus on Your Future participants have enrolled in the school. Dr. Martinez is now in Florida completing a residency at Nova Southeastern University. After that, Dr. Martinez plans to return to her hometown of Aurora, Ill., and work in the Chicago suburb.
She's leaning towards opening a practice, on her own or perhaps with a classmate, and will focus on pediatrics. She fell in love with working with children during one of her clinical rotations, and she's eager to provide care for children—many of whom she anticipates will be gaining access to an eye care exam for the first time thanks to the Affordable Care Act. "I saw the impact that an optometrist can have on children," Dr. Martinez says. "Sometimes, children who are struggling or look like they're not putting effort into schoolwork may only need a pair of eyeglasses or vision therapy to make it easier. If these young students do well, maybe they will want to go to college or become a doctor, too."