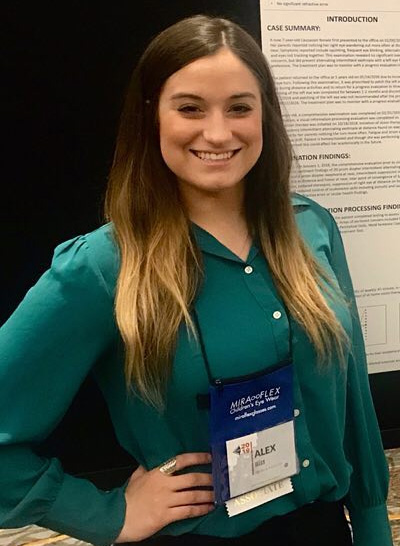 It wasn't until she was taking an AP history class as a senior in high school that Alexandria Wiss, OD, realized something was not quite right. "I wanted to go to a movie with friends, and my mother said that was fine as long as I finished my homework first. My friends called me when they were finished, and I was only 10 pages in. That's when I realized I was working harder than they were," she recalls.
While she recognized that she was seeing double throughout her life, she attributed it to being overtired or stressed. In addition to being an AP student, she was a competitive dancer. Her intense work and motivation to succeed hid the visual problems she was experiencing. When she shadowed different health care providers, she began to see that a pediatric optometrist was addressing exactly the kinds of issues she was facing with his young patients.
"I didn't realize what vision therapy was until I was in optometry school," she says. As vision therapy exercises improved her tracking and functional vision, she realized how much greater her academic challenge had been. At Illinois College of Optometry, she became the president of the student chapter of the College of Optometrists in Vision Development.
Today, Dr. Wiss is an associate at Hellerstein & Brenner Vision Center in Denver. Before her 2018 graduation, "I traded my selection times at ICO to get a rotation here. Dr. [Lynn] Hellerstein had been a mentor from afar," she says. She sees primary care, pediatric and vision therapy patients at the practice now.
Many of the patients she sees are referred, so they already have some sense that they need services that not every optometric practice offers. "I can talk to parents and tell them that I'm recommending vision therapy because I understand the possibilities unlocked by this therapy," she says. In addition, by conducting a developmental vision analysis at the start and periodically throughout the therapy, she can show parents and patients how the scores have progressed." Seeing progress helps to keep them motivated.