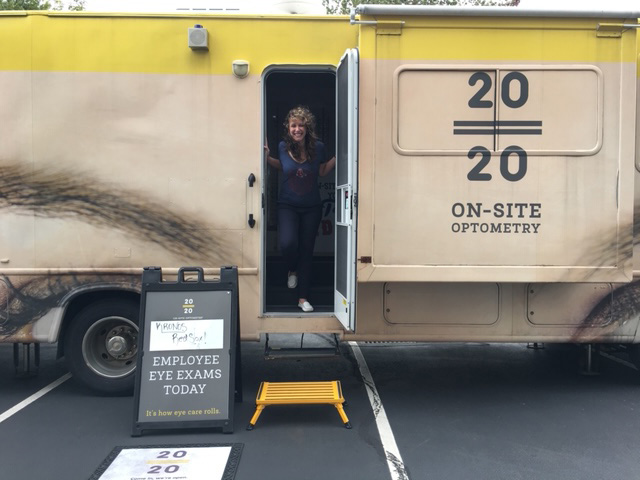 Following her 2016 graduation from the New England College of Optometry, Alina Reznik, OD, FAAO, was searching for something new. After finishing her residency at the Lynn Community Health Center, she was given some great opportunities in the Boston area. While she was weighing her options on where to start her career, she learned about a company called 2020 On-site. The company runs mobile exam lanes that travel to offices and offer exams to the employees on site.
"LOVE AT FIRST EYE EXAM"
"It was so different than what I imagined. I did an interview; I had to see it to believe it. When I was shown what this truck looks like and how it all flows I fell in love with it," she says. Something so innovative and ever-changing was not the environment Dr. Reznik saw herself in. "I love stability and stress-free environments. I thought I would do the typical same office, every day routine. But I also love innovation and doing something creative," she says. In fact, many of Dr. Reznik's colleagues imagined her in a different mode of practice. "People expected me to go into education, but after some soul-searching, I realized that 2020 plays into my love of entrepreneurship. It was love at first eye exam."
DIFFERENT STROKES FOR DIFFERENT FOLKS
Her role at 2020 On-site is rewarding because every day is different. "It's interesting to go to the companies; everyone has different needs. Local employer Wayfair has so many computer stations, while employees at the Boston Ballet and Symphony have such different visual demands. One day, a patient said, 'Thank you for coming to see me today.' No one has ever said that before. People are so thankful that we're saving them time from taking off from work and their families by providing eye care in their work setting," she says.
The van that serves as the Mobile Vision Center is equipped with pretesting equipment and eyeglasses frames. When a patient steps in, the staff checks the patient's insurance and benefits, performs pretesting and brings the patient into the doctor's lane. After the exam, patients can select their frames, and eyeglasses and contact lenses are mailed to the patient.
A separate vehicle holds the equipment to set up an exam lane inside the company's space, where the 2020 On-site team can see patients for a few days and then reload the equipment and move on to the next office. 2020 On-site is committed to serving local communities in Boston, Cambridge, Atlanta and Chicago, and it brings the mobile units to public schools to offer free eye exams and free eyeglasses. "I've done many of those visits. The nurses are phenomenal to work with. Everyone is so grateful. It's a pleasure," she says.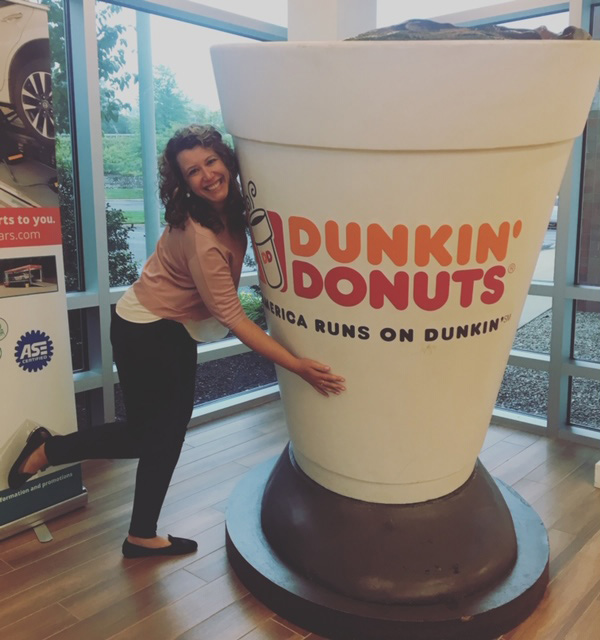 CHANGING THE GAME
"Our goal is to revolutionize eye care—to provide it in a different, more enjoyable way. We are providing an experience that's convenient and comprehensive," Dr. Reznik says. "Being at the worksite makes it so convenient; people can actually focus on their health without having to reschedule their work." Although many communities have ample practice locations that are open in the evenings and weekends and even accept walk-in patients, not everyone is utilizing the services that are available to them to get routine eye care. "I see people who have never had an eye exam and they're 40 or 50. They say, 'The only reason I came is because you're literally at the front door.'"
PLAYING HER PART
The company prides itself on giving its doctors the opportunity to buy stock ownership in the company. "The leaders want us to be able to help build and grow this company. Our voice is heard. Our teams spend a lot of time together, in activities like archery or rock climbing. I love the startup world with health care," she says.
When Dr. Reznik first entered the 2020 On-site scene, she was the only female OD. Now the company has five female optometrists. Dr. Reznik is directly involved with the recruiting aspect of the company. She is already looking for doctors in Chicago, Atlanta and Boston and looks forward to the bright future of accessible optometry.