India-born Sherene Vazhappilly, OD, moved to the western hemisphere with her family in second grade. They spent about eight years in various U.S. states before settling in Canada. She loved her new school and friends, but her grades were slipping. What her family thought was a language barrier turned out to be "extreme" near-sightedness. But the process of identifying her refractive error and the solutions prescribed helped her find her passion.
GAINING EXPERIENCE AND EDUCATING PATIENTS
Dr. Vazhappilly—who also goes by Dr. Serene Happy—graduated in 2019 from the University of Waterloo and now works as an associate OD at a LensCrafters just outside of Cincinnati, Ohio. She says corporate optometry is "good for her in this moment of her life," noting the work-life balance, consistent schedule and diverse patient base as just some of the reasons she loves where she's at.
Not everyone knows the value of an annual eye exam, Dr. Vazhappilly says. She and her family certainly did not know the impact of high myopia on reading and learning. "I find one of the best ways to teach is through lived experience, so I share my story of struggling with my vision as a child and what a difference seeing an optometrist made," she says. "I have the knowledge, equipment and passion to help my patients every day. That's exactly what I'm doing in my position now."
MORE MONEY, LESS STRESS
Another perk of her current work is that, as a recent graduate, Dr. Happy didn't have to worry about filling a schedule with new patients or a new practice with equipment. She's been able to save up to pay off student loans and gain focus on patient care
Dr. Vazhappilly sees patients from age "zero to 101," she says laughing, but especially loves treating kids with myopia. "I love being able to find solutions for them through myopia management, which wasn't as prevalent when I was a kid."
Her day includes everything from routine eye exams to neurological and ocular disease cases, and even the occasional, "dire" eye emergency, which keeps her on her toes. "Seeing different cases keeps me excited and pushes me to be a better clinician due to the level of research required on my end," she says.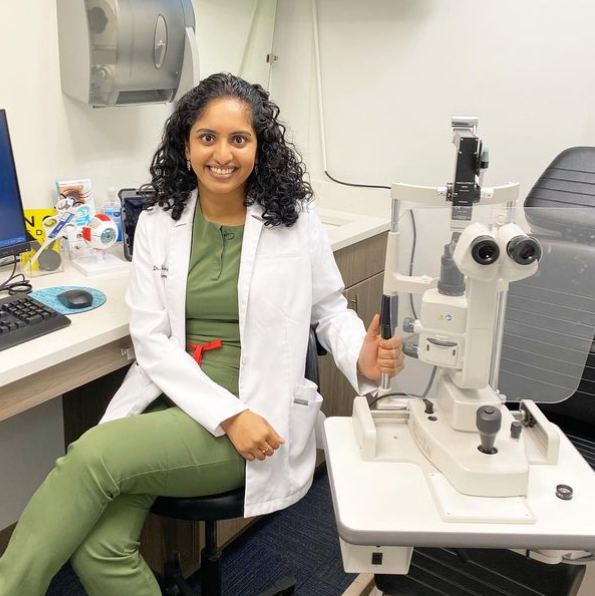 "I am able to be a doctor and focus on disease, contact lenses and patient care, all while gaining valuable experience," Dr. Happy says. She receives just the right amount of guidance, providing her a comfortable balance of independence.
STAFF MORALE
Dr. Vazhappilly is the main OD on staff at her location, so it's up to her to keep the team morale high. She's "always" working on ways to avoid burnout with the team, including motivating the team and keeping them focused on goals, without the practice feeling stuffy. "Staff morale has a direct correlation with revenue and the patient experience," Dr. Vazhappilly says. "Patients notice when a team is happy where they are and works well together. It's imperative that we work together towards a common goal."
Motivation, Dr. Vazhappilly says, is key for both staff and patients. On the staff side, being on the same page about practice quotas or even staff birthdays can bring a feeling of unity to the team, ultimately making the patient experience smoother and more efficient. That, combined with motivating her patients to get their eyes checked and better their overall health, keeps "Dr. Happy" just that—happy.
Read more WO corporate-affiliated stories here. 
Find Dr. Vazhappilly on Instagram @drserenehappy.