Candice Meng, OD, spent her first two years after her 2020 graduation from the State University of New York College of Optometry working for an ophthalmologist. While it fulfilled her interest in working with ocular disease, Dr. Meng saw more than 40 patients on her busiest days. "I didn't have enough time to educate patients," she says. "I enjoy spending time so patients can understand how to follow their treatment regimen." She also wanted to further explore providing myopia management care.
It was perfect timing when optometry school friend David Tai, OD, reached out to her about an opportunity to partner and open a practice together, specializing in myopia control. It is a booming segment of the eye care industry in Asia, where he graduated medical school, and Dr. Tai was eager to be a part of creating awareness for this care here in the U.S. Many major companies have been starting to notice the global issue, he notes, such as Apple launching a myopia control app to prevent holding the iPads too close.
Dr. Meng had been happy to be employed, yet she found herself considering ownership for the first time. Dr. Tai had already secured a location—an empty space in a mixed medical and office building in the center of Flushing, New York, which has a large Asian population. Dr. Meng saw the great potential to help the community due to the prevalence of myopia in this demographic, and she couldn't turn it down.
EXPANSION IN MIND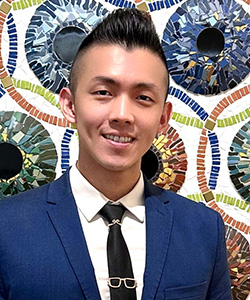 Dr. Tai says that he had been studying successful practices and brands even while he was a student. He believes that Vision Light Eye Care will become a brand with multiple locations that is known for its excellence in patient health care education and providing valuable services as well as its emphasis on myopia control. "When patients understand why they are taking medications the way the doctors prescribed them, their compliance will be better. If we provide quality services, patients can feel the value.  It becomes a cycle of good things happening when our doctors practice this way."
To further elevate the level of care provided, they invested in The Myopia Master® by Oculus, which is able to measure axial length of the eyes to better monitor the progression of myopia; as well as K5M which provides topography, and functions for dry eye evaluations. For dry eye treatment, they also are the first practice in Flushing to invest in the Optilight intense pulse light (IPL) therapy for their dry eye patients. There's been a lot of positive feedback after patients receive IPL and find relief.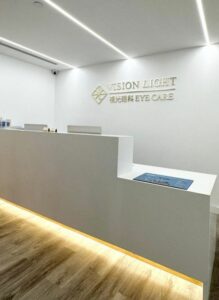 It was important to Dr. Tai that the office felt modern and also welcoming. Dr. Meng describes the space as sleek with a very organized, minimalist look with white and gold and accents of navy blue. It's an environment designed to help doctors and patients feel comfortable and where they can enjoy spending their time.
COMPLEMENTARY RESPONSIBILITIES
Dr. Meng is in the office on a full-time basis, and Dr. Tai balances his week between three locations, two where he is employed and in their office on Sundays. The doctors each focus on their individual responsibilities for the business to maximize their efforts. Dr. Tai does the marketing and advertising, while Dr. Meng handles most of the clinical care, as well as billing and training staff. They're working their way into a cross-training approach, as front desk staff will also learn the duties of technicians.
The practice started with a soft opening in late 2022, and they will be hosting their grand opening on June 22, 2023.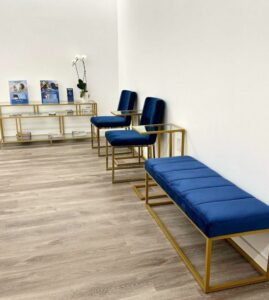 Dr. Meng says that you won't find another practice with the same style and services in Queens. "You can come in and feel comfortable here," she says. Patients are seen by appointment only, so no one is left feeling rushed by walk-ins. Dr. Meng speaks fluent in both Mandarin and Cantonese, which also helps put patients at ease during their exam when they don't have to speak through a translator.
Dr. Tai has been busy attending events, networking and promoting patient education wherever he goes. He's still fine tuning the office model, getting a sense of what works best and taking note of how he can replicate this prototype for future ventures striving for the best patient experience.
Check out the practice on Instagram.
Read more about specialty practices.