Since Cheryl Schmitt, OD, and her business partner Katrina Nichols, OD, acquired their first practice together in 2010, they have grown Arizona Primary Eye Care to four locations, making an even bigger impact on the community in Tucson and Douglas, Arizona. It's been a fulfilling journey for Dr. Schmitt, who's a third-generation optometrist; both her father Charles Roberts, OD, and grandfather were also optometrist and business owners.
CHOOSING OPTOMETRY AND ITS MANY OPPORTUNITIES
"Originally, I did not want to go into optometry," she recalls. She earned bachelors and masters degrees in nutrition, and she was working as a registered dietitian when she says that while the field was interesting, she wasn't really happy with the level of practice. "My dad never pressured me—mostly because he had been pressured—but he would casually send me articles on nutrition and the eyes."
Following her 2002 graduation from Pacific University College of Optometry, Dr. Schmitt started working part time while her children were young. She had originally planned to join her dad in practice, but his rural location was far from home. "I benefited from the flexibility of optometry, and as the kids were getting bigger, I returned to private practice," she says.
Dr. Schmitt also got involved with the Arizona Optometric Association and her local optometry association- the Southern Arizona Optometric Society, where she met Dr. Nichols. The two served together as co-presidents, and they discovered how well they worked together. Three years later, in 2010, they purchased a practice from a doctor who was retiring and only working a few days per week in midtown Tucson. "We went into his existing office, and we moved out within a year," relocating to a bigger space a few blocks away, now known as their Broadway location. "Our kids were still pretty little when we opened, and we realized we could do it if we split the week into three days and three days," Dr. Schmitt says. "That schedule worked for us so we could be part time."
Their second practice acquisition was her father's last office location. "When he decided to let that go, he asked us to take it over." To this day at 81 years old, he still works one day per week in their small satellite location in Douglas. "He has patients he's been seeing for 60 years. It's pretty awesome."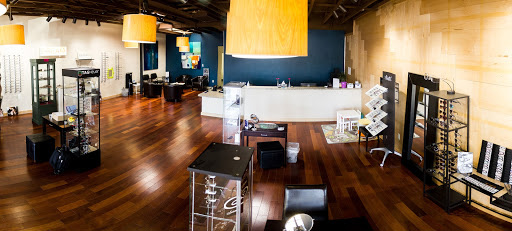 In 2016, Dr. Schmitt and Dr. Nichols purchased a small, part-time practice of another retiring doctor in the Catalina Foothills region of Tucson. They saw a post from their local association and decided to pursue it. Today, this is referred to as their Tanque Verde office.
In 2017, they opened their first cold-start location after hearing about an opportunity to open in the student union at the University of Arizona. "We bid for that, and we got it," she says. It's a chance to serve a whole new demographic right on campus.
THE FEEL OF FOUR OFFICES
Dr. Schmitt says that it often comes up in discussion if they should make the offices look more consistent and branded, yet they continue to decide that each of the four settings is so unique that the physical differences work well for the areas and demographics that they serve.
For example, the student union caters to a college crowd, while their first office location in Midtown sees mostly retirees. The satellite office in Douglas is on the border of Mexico, and there is a high volume of pediatric patients there. And the final Tucson Tanque Verde location is in an affluent part of town.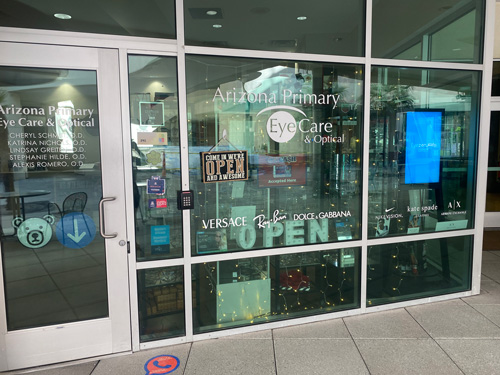 Perhaps the most important factor of the business, the high level of care and experience, can be found in every office. The doctors and team are proud to be behind one of the last truly private practices in the area.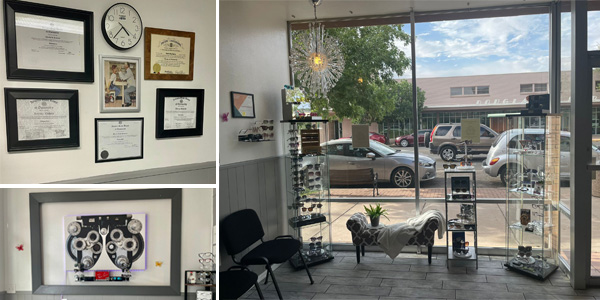 The practice is also unique in that all the ODs are women, with the exception of her father. "We are open to having men, too, but we never hear back after the first interview," Dr. Schmitt says, laughing. It can be challenging, however, as they go through more associates as the natural progression occurs and these doctors grow their families. Yet Dr. Schmitt and Dr. Nichols are determined to help these doctors achieve the work/life balance that is so important to them, as well. "We feel strongly about our own experience, and we are happy to support them." Currently, they have four full-time associates.
Dr. Schmitt spends 3-4 days in the clinic now, and the rest of her office days are focused on the business side of the practice. She and Dr. Nichols are content with their practice size for now, but they are always open to other opportunities. "Our main focus right now is providing the best service we can by maximizing the situations that we currently already have."
DESERVED RECOGNITION
Dr. Schmitt was recognized last year as the 2021 Arizona Optometrist of the Year, which she says was a true honor. "It sounds corny, but I feel very grateful that I was able to find a career I truly love. I don't think everyone gets that opportunity," she says. "Sometimes we get really focused on some harder parts of practice like vision plans, managed care, and no shows, and we forget how rewarding it is. There's a lot of satisfaction."
And a ton of variety, as well, which she says is one of her favorite parts of the profession. "I can go in one room and see a three-year-old and pop in the next room and see a 101-year-old," Dr. Schmitt says. In a time where the field is evolving and many practices are focused on a niche or specialty, she says that she truly enjoys her focus on primary care. "I think that we take for granted how easy it seems to be to get people to have clear vision, and we forget what a unique aspect that is to our chosen area of practice in eye care.  I feel strongly that our roots of optimizing clear and comfortable  vision are what makes us so valuable to our communities. I am hoping for some resurgence of that mantra because it really is a gift we can provide."
LOOKING TO EXPAND?
Dr. Schmitt and Dr. Nichols have had some great success with expanding their business by purchasing practices and buying patient records. Sometimes it doesn't work out, Dr. Schmitt says, but reaching out and having conversations have led to many opportunities. She adds that these openings seem to be diminishing with acquisitions from private equity, but she encourages those who are interested in purchasing a practice to get involved with their local and state optometric organizations. "These are great places to learn more about practice purchase opportunities," Dr. Schmitt says. "Building relationships with a diverse group of colleagues will help new ODs identify areas of opportunity." She also recommends building connections with your patients, as they will often alert you to opportunities in the community, as well.