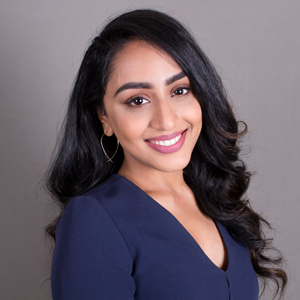 Reena Patel, OD, joined the family at Cargo Eye Care of Las Colinas in Irving, Texas, more than a decade ago in 2009, and she says that taking that position as an optometric assistant was "the best decision I have ever made." Dr. Patel was considering a career in optometry, and practice owner Jonathan Cargo, OD, "took out the time to show me different aspects of optometry; not just the clinical side, but also the ins and outs of owning your practice. Although I didn't realize this at the time, the sheer amount of exposure and experience I was getting by being a part of all aspects of a private practice was incredibly valuable."
She continued working there during her undergraduate studies and part of her time at University of Houston College of Optometry. When Dr. Patel graduated in 2017, she returned to Cargo Eye Care as an associate optometrist.
A VALUABLE CONTRIBUTION
Cargo Eye Care was a well-rounded, full scope practice before Dr. Patel became an associate OD, and Dr. Cargo encouraged Dr. Patel to expand her offered services in her areas of interest and expertise. While RGP lenses were not completely new to the practice, Dr. Patel introduced her new approach with the use of sclerals not only for for keratoconus, but also for dry eye disease and other ocular surface conditions. During her clinical courses and also during rotations at Lackland Air Force Base in San Antonio, Texas, and the Community Eye Clinic in Fort Worth, Texas, Dr. Patel developed a passion for these kinds of specialty lens fittings. She appreciated the opportunity to implement this care in the practice. "The staff and Dr. Cargo were very receptive to the new techniques and made it very easy for me to practice how I wanted to," she says.
CHANGING LIVES
While contact lens fittings can become routine, Dr. Patel says that she's seen how even a simple fit can make a tremendous impact. One young boy left a lasting impression after she fit him with contact lenses during his routine exam. Afterwards, his mother started crying in the exam room. "I asked her why she was crying, and she said that this was the first time she was able to see her little boy's face without glasses and with such a big smile," Dr. Patel recalls. "Though it wasn't a clinical breakthrough, I made a positive impact on not only that little boy's life, but also on his parents. I'll never forget it!"
A BLESSING IN DISGUISE
Dr. Patel became a mom to her son in June 2019, and she is thankful that Dr. Cargo is understanding in regards to childcare needs and family obligations, as he has a large family himself. "We have a small work family, and I find a lot of comfort in being able to lean on anyone for support when I need." She's thankful that this practice gives her the opportunity to pursue her passion for helping patients and making a difference in their lives and still have time to spend with her family.
But that isn't to say that the adjustment wasn't challenging. When COVID-19 kept Dr. Patel out of the office for three months, she chose to look at the break in a positive light. "It sounds weird to say, but the pandemic was almost like a blessing for me," she says. She had been struggling with finding a good balance between her role as a new mom and full-time OD since her son was born. "I felt this constant 'mom guilt' for not being able to stay home with my little one, and I was finally given that chance. For better or for worse, COVID-19 allowed me to spend that time with my son—to see him walk, talk, point and even celebrate him turning one."
Dr. Patel says things finally started to fall into place when she gave herself more grace and prioritized her responsibilities. "I had to remind myself that no one is perfect at this, and I learned how to maximize the time I had at home," she suggests. "If I'm home with my child, I'm present. If I'm at work, I'm present. Everything else will fall into place."