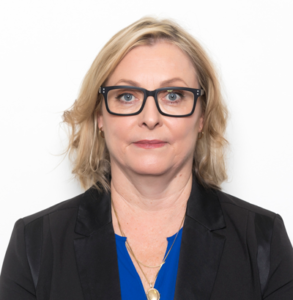 Yvette Waddell has been CEO of one of Australia's most significant scientific research organizations, Brien Holden Vision Institute (BHVI), for nearly two years now. BHVI
is not only an industry success story, it is a national success story. Australia continues to strive to build its science, technology, engineering, math and medicine (STEMM) capabilities, and BHVI is one of the highlights of the Australian government's investment initiatives started in the 1990s.
Known for her many years in the industry, Waddell, as a nonscientific female CEO of one of the industry's foremost research institutions, is quietly carving out new paths for the generations of women that will follow.
Waddell proves that success in STEMM is not only about being an expert in science, technology, engineering, math or medicine. It is about the ability to communicate with STEMM experts and help them translate their knowledge into business achievements.
Her success springs from being able to balance the needs of multiple stakeholders—BHVI's science team, its customers, industry organizations and governments. She has taken the time and effort to build strong, trusted relationships within her native Australia and across the globe. She is sensitive to the legacy that the late Professor Brien Holden created; at the same time, she is willing to make the hard decisions to refresh the organization and prepare it for its next evolution.
HARD WORK AND DRIVE
Hers is an old-fashioned story—of starting at the bottom and earning her stripes through hard work and drive. She joined what was then called the International Association of Contact Lens Educators in 1991 as director of administration. Moving into general management with BHVI, she was delighted to be working on campus at one of Australia's most prestigious universities, University of New South Wales. She would undertake her master of business administration at its leading Graduate School of Management as part of her journey to the role of CEO.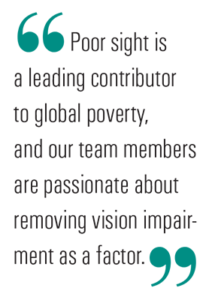 She notes that she is a myope and understands what poor sight is. It is one of the things that propels her today—to enable children with poor eyesight to not be impaired or uninspired in their learning.
She had a successful career at BHVI, becoming its COO. In 2018, she took on the whole leadership at a time of very significant organizational turmoil. Through her dogged determination to rebuild the organization, she has successfully steered BHVI through a transition phase, realigning its values and core objectives.
CHAMPIONING RESEARCH
When she does her job right, everyone benefits. She provides the platform from which BHVI can employ the world's best scientists—many of whom happen to be women. Through her commercial acumen and relationships, deals are done and the resources channeled back into the organization to allow for more research and funds to increase the social enterprise reach of BHVI in countries and communities around the globe.
Under her leadership, BHVI continues to focus on delivering excellent science to and with the world's best institutions and manufacturers. The team is now wholly focused on curbing the myopia epidemic—working out ways to manage and treat the issue that the team was first to quantify in 2016. New technology powered by BHVI is entering the market now, around the globe.
Waddell is driven to improve the way the world sees. She is a CEO with a heart and a clear mandate: to lead a team of world-renowned scientific researchers, championing the latest technological advances in eye care and advancing the training and development of the optometrist workforce in Australia and around the world to correct and manage vision impairment and combat unnecessary blindness.
"Poor sight is a leading contributor to global poverty, and our team members are passionate about removing vision impairment as a factor. I am immensely proud of the diverse team we have at BHVI," she says. "I am proud of how we inspire one another and collaborate. We have women leading in almost all areas of the organization, from scientists to sales, building education programs and working in the field. Working together, we will continue to take our place as world leaders in the optometry space."
But make no mistake—hers is not the glamorous life of a globetrotting CEO. On a Saturday night, she is more often sitting up with her husband and two dogs waiting to ferry around her two teenage children.