When Kathryn Richdale, OD, PhD, Diplomate CCLRT, was in optometry school, she thought the career choices ahead were limited: private practice, corporate practice or maybe the VA. She did not imagine the research opportunities available in optometry.  "I never thought that I would be able to do what I have done," she says. Dr. Richdale was recently appointed to a new position as clinical research fellow at CooperVision. Here she works across multiple areas of CooperVision's clinical affairs on projects related to European Union Medical Device Regulation and ongoing MiSight® 1 day clinical studies in countries around the world. MiSight 1 day is the first and only FDA approved treatment to slow the progression of myopia in children. CooperVision has an extensive portfolio of contact lenses to correct refractive error for a wide range of patients. "It's an exciting time and place for contact lens research", said Dr. Richdale.
SAY YES TO OPPORTUNITIES
Dr. Richdale says that saying yes to opportunities is what led her to where she is now. She took a job in a corporate setting straight out of school, "learning more about patient care. I did like it, but I was curious to see what else was out there," she recalls. So she returned to school to complete a two-year master's program that combined a degree with a cornea and contact lens fellowship – and added clinical research to her interest areas.
"I stayed along that path and started to work with really interesting people, combining a variety of patient care, teaching and research," she says. Along the way, she earned a PhD and spent 20 years in academia, at Ohio State University, State University of New York College of Optometry and University of Houston College of Optometry. When the COVID-19 pandemic upended traditions in education, she appreciated the chance to help redesign how to teach and care for patients.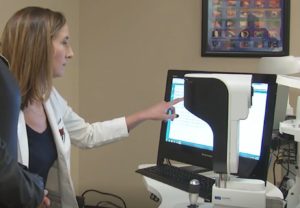 But she also felt the itch to see what else the profession offered. "I was a little nervous. It's easier to stick with what's safe," she says. While she knew people at CooperVision and had been impressed by the company's work in presbyopia and myopia, she was hesitant to apply for the new role. She had, in fact, not been selected for a different position there previously. "But the lesson here is that the door is never really closed. This role came along and aligned with my skill set," she says.
She hopes that doctors who see her in this position will perhaps consider how they may be able to do more research themselves. "The benefit to doctors in working on clinical research is that they have this first-hand view of what's coming down the pipeline.  These doctors can show patients that they're at the forefront, by saying, 'I have this new material or device or treatment; would you like to try it?'"
INTERESTED IN RESEARCH?
There are several opportunities for optometrists to get involved in research. For example, there are dual masters programs or summer research programs. Doctors could complete a residency that has a research element, too. Plus, the American Academy of Optometry offers an eight-week clinical investigator training program for practitioners. Read more about that here. Manufacturers may also offer opportunities to those interested. CooperVision, for example, offers research and development internships to students.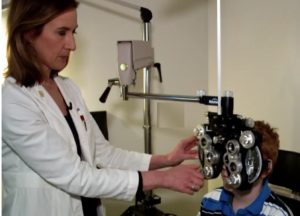 It's important for companies to spread research opportunities far and wide. For example, Dr. Richdale oversees MiSight and other post-approval studies globally. "Traditionally, research was done in the academic setting, but we are now focusing on real-world data and need results from doctors who are actively fitting the lenses," she says. In the European Union, the search is on to find new practice sites able to conduct research, as the EU has expanded the requirements for device research.
In her first year in this role, Dr. Richdale says that while she misses patient care, she appreciates the scale of the impact she has. She also misses the mentorship that comes with academia, but she says she'll be able to match some of that in this role "I am a proponent for teaching students about careers in academia and industry – many still are not aware of what these roles really are."
But her world is growing. Having been licensed in seven states and experiencing multiple career settings "Has given me a bigger view of optometry. It is so much broader than direct patient care, which is critical – but there is so much more than that."
She encourages optometrists and students to take advantage of their networks. Attend sessions at meetings where presenters are talking about the latest clinical findings. Realize that the research provides eye care professionals not only with clinical data but practice enhancements. "The evidence comes first but then we need to understand how we clearly educate patients or their parents on the benefits. Or how do we on a global level help doctors determine who is a better candidate for orthokeratology or MiSight, for example."
The profession is rich in opportunities, she says. "Find the fit that's right for you," she says – and recognize that each step along the path provides experiences that can enrich your life and expand your connections in the field.  Connect with Dr. Richdale through LinkedIn.
Read more stories here about women who have found career paths in industry and research.