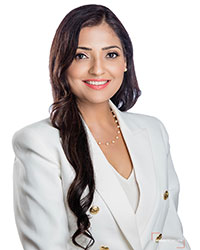 Sarabjeet Singh, OD, has fond memories of visiting her husband, Gurpreet Singh, MD, FACS, for lunch dates at the corneal specialty office where he was working. "I would hang around a little longer to see his interactions with patients and how much value his work was bringing to someone's life," she says. "The reward was so tangible, and patients were so happy. I remember the day when I told him, 'I wish I could do what you do.'"
She was working in a hospital pharmacy setting; she earned her pharmacy degree and started her career in the field in India. Then she met her husband through mutual friends, and the rest is history: they moved to Houston, Texas, together and got married. Dr. Gurpeet Singh had always been friendly and maintained good relationships with optometrists as works in a referral-based practice. He encouraged her to pursue it; Dr. Sarabjeet Singh applied to University of Houston College of Optometry and was accepted.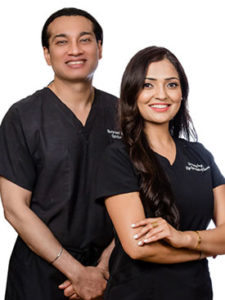 While Dr. Sarabjeet Singh was in optometry school, her husband opened his first practice location. "There was a lot of struggle when he first started," she recalls; there was a wide range included in his non-compete clause. "He had to go far away and start fresh with no following." He networked with local ODs and PCPs, and he built the business from just 4-5 patients per day to ready for expansion by the time Dr. Singh graduated and joined the team in 2011. They relocated the first office and added a second location to continue the impact that Eye Specialists of Texas could make in Cypress and The Woodlands, Texas.
For the majority of their first seven years together, they worked in the same location at the same time. Now, they've expanded their team to include two more optometrists and another ophthalmologist, and they are preparing a relocation of the Cypress office in October.
EXPECTATIONS EXCEEDED
Dr. Sarabjeet Singh has found what she was looking for in optometry. "My favorite part of the practice is my patient interactions: the stories, connections and bonds you get to make. Everyone has a different condition, and I love helping people through the medicine aspect." They exchange stories about their children, and teachers and grandparents are always willing to give advice. "I get to have great conversations with my patients. When they come back six months later, they remember what I told them about my kids, and I love that personal connection."
Having her own practice has allowed her to make more time for her children—ages 12, 8 and 3—and also build an office schedule where she can dedicate sufficient time to each patient. "I don't have to see 20-30 patients per day, and I can spend good time with them." She dedicates three days to patient care and fits in administrative and practice management responsibilities throughout the rest of the week. She takes at least one full day off per week to spend time with her children and reboot. "Most of our employees are women, so if they have a kindergarten graduation, I respect that time with their kids as a priority."
In fact, Dr. Singh wants to be sure her staff of 15 is having just as great of an experience as their patients. "I want them to want to go to work in the morning. We keep our work environment healthy: we treat employees with a lot of respect, and they see how we interact with our patients. Patients need to be treated with kindness and patience, and we want those standards to be maintained throughout."
CLINICAL EXPERTISE
Eye Specialists of Texas is known for its care and treatment for corneal transplants, glaucoma and surgery, and Dr. Singh sees new patients and surgical patients for the pre-appointments for measurements. She appreciates having her husband in the office when she has a question or to refer the patient out for a consult. "I go to the front desk and get the appointment made."
She sees some patients multiple times per week for months to get their conditions under control. When they reach that point, patients are extremely grateful. "Some patients fly to come see me, but I can also find them an OD in their area that is more convenient; it doesn't hurt my feelings," she says. "It's very fulfilling to make an impact on people's lives."
Dr. Singh specializes in the care of those with glaucoma, cataract, diabetes and  ocular disease pathologies, and she enjoys interactions with their other health care providers as well. She's always building her network with the other professionals in her area, many who are located in the same medical center. She welcomes these doctors to keep in touch—they can call, text or email her. It's important that those referring doctors feel comfortable working with her, and even fellow ODs can trust that she will send patients back. The office doesn't have an optical, so there's no need to compete on eyewear sales.
EXPANSION ON THE HORIZON
Dr. Singh anticipates that they will be moving into their new office building in October. The new space is double the space, and the layout is more efficient. It will be an easy adjustment for patients; Dr. Singh can see the new space from the garage of the old office. She's enjoying the details of the designing process with a plan to make it a welcoming space incorporating warm tones.
She says that she feels content with the two offices and doesn't envision any others on the horizon. "We can only do so much, and bigger doesn't always mean better."