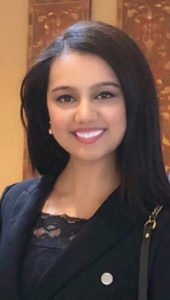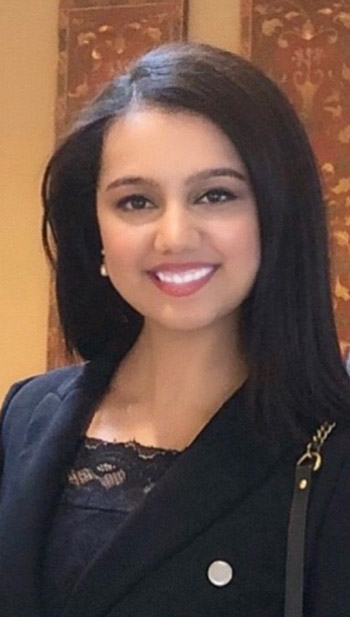 Sidra Qadri, OD, will never forget the moment she chose her career path. As an undergrad, she was shadowing an optometrist and learning about dilated eye exams. The patient in the chair was an 8-year-old boy. The OD told her to take a look at his eyes; it was the first opportunity she would have to view the eyes in this way. "I learned that he had a brain tumor" that could be detected during the course of an eye exam, Dr. Qadri recalls. "When that happened, I immediately knew that this was my calling."
During her rotations as a student at the Rosenberg School of Optometry, Dr. Qadri continued her medical focus, learning all she could about ocular disease in multiple settings including a Community Eye Care Clinic in Fort Worth, Texas, as well as the Veteran Affairs Hospital in Peoria, Illinois. These experiences solidified her decision.
Through her connection with San Antonio ophthalmologist Gregory D. Parkhurst, MD, she was introduced to Dougherty Laser Vision, a thriving ophthalmology practice with six offices in the Los Angeles area. "Dr. Parkhurst told me I should go out and take a look, and I fell in love with the practice and its mission. I knew it was the right fit." She joined the team in August 2018 and is one of three ODs in the practice. Her responsibilities include pre- and post-operative care for patients who will see Paul Dougherty, MD, for laser eye surgery and cataract surgery as well as co-management with the patients' referring doctors. Keeping an open line of communication is extremely important in this practice, which has an expansive referral network of 300 ODs in the region.
Dr. Qadri takes an empathetic approach to her patient care, treating each individual like a family member. "Cataract surgery is so common to us and we take it for granted, but it's new to these patients and they often are scared," she says. She does the handholding as she completes a thorough evaluation of ocular surface, retina, macula and cataract in determining the best lens options. She carefully walks patients through the details because she knows how important their vision is to them. She also takes into account their personality and hobbies in making a final recommendation for intraocular lenses. For example, a patient who threads needles all day shouldn't be given distance vision and need to continue to wear reading glasses.
LOYALTY TO REFERRING ODS
She's always attentive to her referring ODs from alerting them to findings she may find as well as being available to any concerns that may arise after surgery, as the referring OD does most of the follow-up care on one day, one week and one month. The practice also hosts monthly roundtable discussions, which are open to a few offices each time, to allow the conversation to continue face-to-face. These sessions are led by practice CEO Renata Stone and Sales Director Ron Zepeda.
While it's quite a flattering compliment when patients say they'd like to continue as her patient, she always tells them that's it's best for them to return to the referring OD. "We are loyal to our optometrists," she says. Dr. Qadri acknowledges that many ODs may have a hesitation about referring for exactly this reason, and she wants the message to be clear to patients that her office is strictly serving their surgical needs.
SATURDAYS WERE FOR RESEARCHING
Many new graduates ask Dr. Qadri at speaking engagements if she completed a residency to gain this position. While she did not, she did put in many extra hours of studying to excel in her position. She kept up an extensive education process even after graduation given the fast pace and intricate detail of her new position. "The first week, I saw 10 things that I didn't know, so I wrote them down and would go home and study," she says. "The next week, I would be better prepared to answer patient questions. I did that on a weekly basis for seven months; Saturdays were for researching." It helped her expand her knowledge base tremendously, and it's earned her a place as a trusted clinician in the community even as a new graduate. "Our referring ODs call us and ask for my advice on how I would treat cases."
She encourages her colleagues and new graduates to specialize and hone their skills. "The online retail market is taking profitability away from eyeglasses and contact lenses, so it's important to establish yourself with a scope beyond that," Dr. Qadri says. Be open to your options, and know that the avenue of ophthalmology and ocular disease offers many options for specialization, she says.