Fortunately, we have excellent treatments for both conditions of dry eye and allergy.
by Cecelia Koetting, OD, FAAO, DipABO
Most patients have some amount of dry eye disease (DED). Once their allergies kick in, their symptoms often become exacerbated as the two conditions interact, causing increased inflammation and the release of inflammatory cytokines, MMP-9, and other markers. Ocular allergies are associated with itchy eyes and papillae, which results in a mechanical reaction when patients rub their eyes. That in turn creates even more swelling. The entire loop feeds back into poor tear production, making existing DED worse.1
The initial step in a comprehensive DED exam is to ask patients probing questions. Often, however, they do not know if the symptoms they are experiencing are due to allergies or DED. The clinical findings will help differentiate the two conditions. Patients may say they have itchy eyes, or their eyes feel irritated and dry, yet artificial tears do not provide relief. If they have papillae on the lids indicating an allergic response, I discuss with them that what they are experiencing is due to allergies. Ultimately, both conditions respond well to many of the same treatments.
Corticosteroid drops work quickly to calm the acute inflammatory response, and starting allergy patients on a topical antihistamine and mast cell stabilizer will serve to address the body's histamine and mast cell response.
PATIENT EDUCATION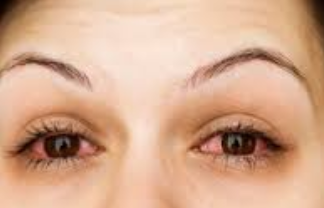 I make sure to take my time when discussing the interaction and overlap of DED and allergy with patients. In particular, with a new patient, I will let them know that we cannot be sure how much of their condition/symptoms are due to DED and how much is caused by allergies. I inform them that we will treat the allergy component first and then reassess their overall situation. When the eyes are inflamed, it can be hard to get a complete and clear picture.
I am sure to say, "We are going to start here and then circle back in about 4 to 6 weeks. That may mean that I adjust the medication, take something away or add others. Once I get a better idea of what is going on, we can make a long-term treatment plan." Patients understand that most medical conditions require a stepwise approach.
As mentioned earlier, I will start them concurrently on a short-term ophthalmic corticosteroid to more immediately calm the ocular surface as well as an ophthalmic antihistamine plus mast-cell stabilizer drop. The antihistamine component will work quicker than the mast cell stabilizer, which takes two weeks to reach its full effect.
I also let them know that not everyone responds the same to these agents. Similar to oral antihistamines, one formula may work better than another for a particular person. If the symptoms have not improved in two weeks, we will switch to a different antihistamine/mast cell stabilizer formula. This way, I have laid it out for patients that we may need to pivot; the 2-week touch base is usually a phone call with an in-office visit at 4 to 6 weeks.
NUTRITIONAL SUPPLEMENTS
I recommend nutritional supplements to most of my patients. I want them on a high-quality product that contains anti-inflammatory Omega fatty acids (FA) regardless of their allergy or dry eye status, because the benefits go well beyond the ocular surface. These supplements help to decrease the inflammation throughout the body as well as improve the tear film. Although not many of us were thinking about this in the past, now more and more studies show the benefits of Omega FA supplements for systemic inflammatory conditions from eczema to asthma to rheumatoid arthritis.2-4 Some arthritis patients, for example, have found taking high-quality high-dosage Omega-3 FA nutritional supplements provide a substantial decrease in pain without having to rely on daily nonsteroidal anti-inflammatory drugs.4 There are even studies looking at Omega-3 FA supplementation in pregnancy to help decrease the risk of childhood food allergies.5
Clinically tested HydroEye (ScienceBased Health) has been found to support eye comfort, reduce irritation and maintain corneal smoothness in a double-blind, placebo-controlled, multi-center trial.6 Its benefits go beyond that of flaxseed oil or fish oil alone, as HydroEye provides the unique Omega FA GLA derived from black currant seed oil, plus Omega-3 EPA and DHA from highly pure USP-verified fish oil. GLA, which is not available dietarily in meaningful amounts, helps to modulate the body's inflammatory response.7-13
I think we should be considering this type of supplementation for all patients with inflammatory conditions as a preventative to decrease their overall symptoms and possibly help some patients require fewer medications.
RETAIL FOR PATIENT CONVENIENCE
Offering products in-office, along with directing patients to online resources for replenishment helps enhance compliance and provides a convenient value-added service for patients. I have a personalized online store at Myze which offers patients a subscription plan for their regimen—similar to how I use Quip for automatic electric toothbrush refill. As I write out a patient's plan, I circle the products I recommend and give them QR codes for ordering home delivery. I can still control what my patients are getting, and I know there will be consistency.
CONCLUSION
Patients invariably will present with both ocular allergies and dry eye. Untangling the two conditions can take a bit of time, but preparing patients for some trial and error as well as providing them with a convenient way to get the products they need will help keep them engaged and compliant with their treatment regimen. I think about what I would want my experience to be if I were sitting in the chair.
Cecelia Koetting, OD, FAAO, DipABO, practices at the University of Colorado in Denver. She may be reached at dr.ceceliakoetting@gmail.com. Dr. Koetting is a consultant to Alcon, Allergan, Bausch + Lomb, Bruder, Myze, PRN, Santen, and ScienceBased Health.
REFERENCES
1. Leonardi A, Modugno RL, Salami E. Allergy and dry eye disease. Ocul Immunol Inflamm. 2021;29(6):1168-1176. doi: 10.1080/09273948.2020.1841804.
2. Schlichte MJ, Vandersall A, Katta3 R. Diet and eczema: a review of dietary supplements for the treatment of atopic dermatitis. Dermatol Pract Concept. 2016 Jul; 6(3): 23-29. doi: 10.5826/dpc.0603a06
3. Adams S, Lopata AL, Smuts CM, Baatjies R, Jeebhay MF. Relationship between serum omega-3 fatty acid and asthma endpoints. Int J Environ Res Public Health. 2019;16(1): 43. doi: 10.3390/ijerph16010043.
4. Kostoglou-Athanassiou I, Athanassiou L, Athanassiou P. The effect of omega-3 fatty acids on rheumatoid arthritis. Mediterr J Rheumatol. 2020; 31(2):190-194. doi: 10.31138/mjr.31.2.190
5. Ciaccio CE, Girdhar M. The effect of maternal omega-3 fatty acid supplementation on infant allergy. Ann Allergy Asthma Immunol. 2014 Mar; 112(3): 191–194. doi: 10.1016/j.anai.2014.01.009
6. Sheppard JD Jr, Singh R, McClellan AJ, et al. Long-term supplementation with n-6 and n-3 PUFAs improves moderate-to-severe keratoconjunctivitis sicca: a randomized double-blind clinical trial. Cornea. 2013;32(10):1297-1304. doi:10.1097/ICO.0b013e318299549c
7. Kapoor R, Huang YS. Gamma linolenic acid: an antiinflammatory omega-6 fatty acid. Curr Pharm Biotechnol. 2006;7(6):531-534. doi:10.2174/138920106779116874.
8. Barabino S, Rolando M, Camicione P, et al. Systemic linoleic and gamma-linolenic acid therapy in dry eye syndrome with an inflammatory component. Cornea. 2003;22(2):97-101. doi:10.1097/00003226-200303000-00002.
9. Macrì A, Giuffrida S, Amico V, Iester M, Traverso CE. Effect of linoleic acid and gamma-linolenic acid on tear production, tear clearance and on the ocular surface after photorefractive keratectomy. Graefes Arch Clin Exp Ophthalmol. 2003;241(7):561-566. doi:10.1007/s00417-003-0685-x .
10. Aragona P, Bucolo C, Spinella R, Giuffrida S, Ferreri G. Systemic Omega-6 essential fatty acid treatment and pge1 tear content in Sjögren's syndrome patients. Invest Ophthalmol Vis Sci. 2005;46(12):4474-4479. doi:10.1167/iovs.04-1394
11. Kokke KH, Morris JA, Lawrenson JG. Oral omega-6 essential fatty acid treatment in contact lens associated dry eye. Cont Lens Anterior Eye. 2008;31(3):141-146. doi:10.1016/j.clae.2007.12.001.
12. Pinna A, Piccinini P, Carta F. Effect of oral linoleic and gamma-linolenic acid on meibomian gland dysfunction. Cornea. 2007;26(3):260-264. doi:10.1097/ICO.0b013e318033d79b.
13. Brignole-Baudouin F, Baudouin C, Aragona P, et al. A multicentre, double-masked, randomized, controlled trial assessing the effect of oral supplementation of omega-3 and omega-6 fatty acids on a conjunctival inflammatory marker in dry eye patients. Acta Ophthalmol. 2011;89(7):e591-7. doi10.1111/j.1755-3768.2011.02196.x.
See how other doctors bring dry eye services into their practices here.