Practice ownership was always a goal for Jesse Camen, OD, but it wasn't the immediate plan after her 2008 graduation from Illinois College of Optometry. She started her career in a corporate-affiliated practice, and she shifted her direction when a colleague recommended that she consider military medicine. Dr. Camen spent the next three years at the Great Lakes Naval Base, just north of Chicago. "I really enjoyed that—working with the latest and best equipment and the freedom to practice fully without restrictions of insurance."
After her 30th birthday, she fulfilled her dream of moving to California and started working at the San Diego VA Medical Center. Then she added more hours to her schedule working at a private practice and an ophthalmology office. "Welcome to California, you have to have four jobs," she says, laughing.
THE TURNING POINT
In 2017, as Dr. Camen juggled her multiple jobs, she says that it became apparent that it was time to take the next step. She sought more control over her work, and then the MD who she was working for relocated to Michigan. "It was the moment where I wanted to take responsibility for myself and not have these situations happen," she says.
Then she saw an ad for a brand-new, beautiful optical—Be Seen Optics in La Jolla, California—that needed an optometrist. She and David Dumangas-Klehr hit it off instantly. He was also originally from the Midwest, and "we had a lot in common with a similar vision," she says. By that weekend, it was official: Dr. Camen would operate as an independent optometrist within Be Seen Optics.
Dr. Camen just needed to furnish her exam area to get started. She invested in a nice chair, autorefractor and LED projector as well as an electronic medical record system. She's also added a Topcon Maestro for its retinal photography and OCT imaging capabilities and a virtual reality visual field analyzer.

Dumangas-Klehr had handled the buildout of the space, which is a boutique style adorned in grays and pops of orange. Dumangas-Klehr's husband, Christian, has been happy to lend a hand in adding to the aesthetic of the space, from hanging artwork from local artists in their gallery space to hand-drawing the creative sidewalk art that changes for different seasons and occasions.
WELCOMED BY THE COMMUNITY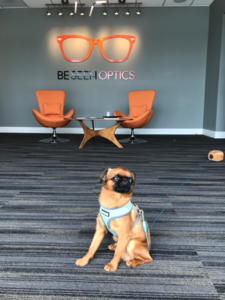 The duo just celebrated three years working together in the space in September 2020. Dr. Camen takes pride in being with her patients through the entire exam experience and building relationships with her growing patient base. Patients and customers even pop in when they don't have an exam to say hello to the team and Dr. Camen's dog, Slater. The 7-pound Brussels Griffon is the office mascot and greeter, often posing for photos or playing with other dogs that stop in and running over to welcome guests when he hears the ringing each time the door opens. She's thankful for this opportunity to bring her furry fellow to work, which was never possible when working in a corporate setting. "It was always my dream," she says.
The extra personal attention is time well spent in a community where patients turn to their friends, family and coworkers for recommendations. "Our demographic relies on word of mouth, and everyone still reads the newspaper in the area, so that direct marketing works, too."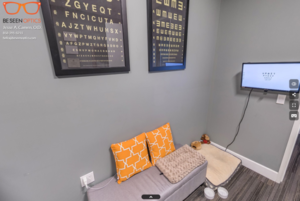 Dr. Camen and Dumangas-Klehr operate their own businesses, but they like to provide a seamless experience for their patients and customers. There's also a part-time staff member that helps Dr. Camen as a tech and also works in the optical. "If I'm in the middle of something, David does a wonderful job getting patients looking at eyeglasses right away." Dr. Camen adds that she appreciates his fashion sense, knowledge and expertise with more than 18 years in the optical industry. He has a knack for knowing just what styles patients will like. "They can try on every frame in the store, but they usually pick the first one David recommends."
EXCITED FOR WHAT'S AHEAD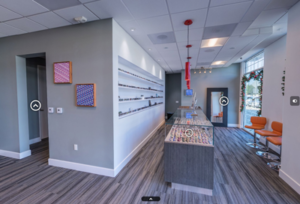 While attending a conference in January 2020, Dr. Camen discovered a passion for sports and performance vision and neuro rehab care. "I fell in love with it; I always wanted to be excited about a specialty," she says. In fact, she's seen firsthand how specialty care can impact a child's learning experience and emotional state. As a child, her brother's binocular vision disorder was misdiagnosed in their rural community in Michigan. Fortunately, he was able to receive appropriate correction and vision therapy, which made a big difference in his life.
Dr. Camen and Dumangas-Klehr have recently completed the renovation of the space, which will allow her to operate out of one exam room for comprehensive care with a separate performance vision space. [Check out this awesome virtual tour of the renovated space.] She purchased Senaptec sensory station and strobes, and she hired an associate doctor, Janel Mallari, OD, who will help her cover primary care as well as launch this part of her business. Dr. Camen has started community outreach to local athletic directors, school administrators, physical therapists and training centers.

Up until last year, Dr. Camen had kept a few hours per week at VA hospital since she enjoyed working with the veterans, but she's now 100 percent at her own practice. "It took my attention away, and now all of my eggs are in one basket." That will also be important as Dr. Camen and Dumangas-Klehr are in the process of replicating their successful model by opening a second location in 2021, and they are looking forward to bringing their personalized care and service to the Palm Desert community soon.
Virtual tour and tour screenshots courtesy of Donny Michel, commercial photographer.