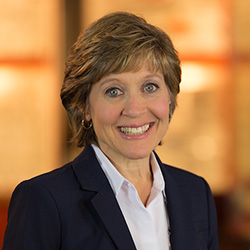 All optometrists training with the NeuroVisual Medicine Institute observe founder Debby Feinberg, OD, in her element at Vision Specialists of Michigan, her practice in Bloomfield Hills, Michigan. As they learn how to diagnose and treat patients who suffer from binocular vision dysfunction (BVD), they can witness first-hand the powerful impact that results from this specialty work. "It's something you don't believe until you see it," says Jessica Bonner, OD, of Portland, Oregon, who completed the on-site portion of the program in October 2021.
BVD impacts those diagnosed with vertical heterophoria, and this misalignment of the eye or eyes can cause many symptoms ranging from dizziness, migraines, light sensitivity, anxiety, neck pain, head tilt and more. Dr. Bonner vividly recalls her first day in the exam room with Dr. Feinberg. One of their first patients was a man who had chronic dizziness, headaches, nausea, and difficulty walking. "He had been to many doctors over 40 years with no clear answers to explain his dizziness and staggering gait," Dr. Bonner recalls.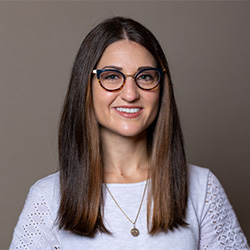 The transformation in the exam room was astounding; Dr. Feinberg used a combination of noise-canceling headphones and prism glasses to correct his BVD. Before he left that day, the patient could stand up and walk to his wife, who shared that he hadn't walked that well in more than 20 years. "Everyone was emotional watching this man," Dr. Bonner says.
A FAMILY MISSION 
In the 25 years since Dr. Feinberg founded the NeuroVisual Medicine Institute with her husband Mark Rosner, MD, she has created a ripple effect, transforming the lives of her own patients and inspiring other eye care professionals to train and provide this much-needed care. And while she's always flattered by those patients who travel long distances to her for these services, Dr. Feinberg's ultimate goal has been to be able to refer them to a provider in their own communities. So far, over 40 doctors have completed her BVD training through the institute—from the U.S. and internationally.
Yet as a clinician and teacher, Dr. Feinberg felt she was spreading herself too thin taking on a role in marketing or recruiting. This important work of educating and creating awareness required extra dedication to achieve an even larger scale of impact if her network of NeuroVisual specialists were to help the 20 percent of the country's population who needs these services.
In 2020, Matt Rosner became the third generation to join the family's optometric business (following his mother, Dr. Debby, and grandfather Paul Feinberg, OD) when he stepped into the role of director of growth and development for the NeuroVisual Medicine Institute. He grew up hearing about the business over conversations at the kitchen table, and after more formally discussing the institute—where it was and how far it's come—he officially joined the team and made a proposal to expand their reach to train upwards of 500 doctors over the next 5-10 years.
A PATHWAY TO SUCCESS 
Matt Rosner brought his past experiences, which focused on intentional growth in the hospitality industry, to the family business. His first steps early in 2021 were creating, collecting and organizing resources to prepare for outreach both to doctors and potential patients.
On the professional side, a main question drove this process: "How do we communicate the value of this work to ODs who are looking for something different?" he explains. "We worked on developing our message, strengthening our assets and creating more high-value production in the ways we tell our story." They are also dedicated to making sure the program is a good fit for each doctor. "We want to make sure that we are aligned with motivation and goals," Rosner says. "Everyone we have trained is scholarly and curious. They're the kind of people who turn over rocks just to see what's underneath–and they've done that their whole career," Dr. Feinberg adds.
In the fall of 2021, Rosner and Dr. Feinberg hosted two webinars—one in conjunction with The Power Practice and the other with the College of Optometrists in Vision Development—and the institute's website is full of heartfelt, personal testimonials from doctors who have completed this training. "We have graduates doing this work for 2-8 years, and they are still doing it and loving it," Rosner says. "They're hiring associate ODs so that they can focus on doing this specialty work, growing their practices and turning down vision insurances because they love the work so much."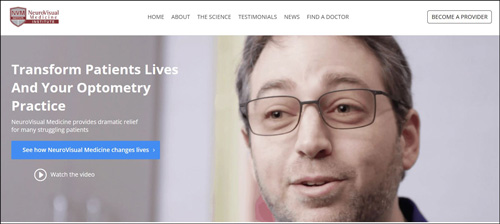 Also, in January 2021, Dr. Feinberg finally received validation of her BVD Questionnaire, which she has been using for two decades, in Otology & Neurotology. It asks patients how frequently and the severity of which they experience very specific symptoms, and the results reveal if they should be further screened for BVD. "When they score high, it's a slam dunk," she says. "It gives us confidence to know we are getting the right patients in the office."
As the doctor network grows, another benefit is the valuable feedback that the doctors can learn from each other's experiences. New discoveries and best practices can be implemented into the program or unveiled as new services for doctors or patients. A recently added service helps graduates field phone calls upon their return to their offices, making it more manageable to determine if patients are a good fit for this care and ready to schedule.
"There is a huge patient demand for NeuroVisual Medicine, and we are excited to increase the number of channels where we are telling these stories," as they partner with others in the industry.
It's also important to educate consumers because symptoms of BVD are not always obviously connected to the eyes. "Patients don't think to tell the optometrist that they are dizzy, or anxious," Rosner says. "We are setting our sights toward the future to increase the visibility with patients and the public." He's focused on building new resources and information for the practice and institute's web presences to connect with those patients who are suffering—who have been to see every other specialist and still nothing seems to help—and make it easy for them to find a local NeuroVisual specialist. "We've grown a lot, and we hope to grow tenfold because there are so many patients who don't know why they are struggling."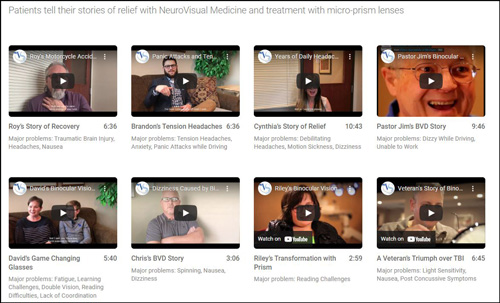 Dr. Feinberg recently participated in a Facebook Live chat session with a well-known advocate and coach for attention-deficit/hyperactivity disorder. "It was so fascinating to see questions pop in," Rosner recalls, as listeners connected how so many ADHD symptoms are tied to how the eyes are working together. If kids can't see well, it's hard to focus, and there are eight or 10 core symptoms of BVD not often connected to the eyes that we treat daily."
PROGRAM DETAILS 
The NeuroVisual Medicine Institute provides a complete clinical and business solution to the treatment of BVD based upon the use of microprism lenses, and welcomes ODs of all experience levels. Dr. Feinberg has had several newer graduates, established ODs who are looking to double the size of the practice in a few years, as well as doctors closer to retirement who want to slow down and follow a new passion.
Students attend five hands-on days of training at the institute and Dr. Feinberg's practice. She encourages students to bring a staff member to learn the non-clinical/business aspects of a NeuroVisual practice, making the implementation process easier once they return home.
Students receive a toolkit of equipment, documents, resources and support for implementation as well as increasing efficiency and accuracy of prescriptions. Students are trained on all instrumentation that they will take home with them. There are monthly phone conversations to follow progress based on an implementation checklist that details all the steps from streamlining and efficiency to insurance reimbursement, the proper labs for high tolerance work and much more.
Follow-up support is just a text message or phone call away. While Dr. Feinberg holds formal biweekly clinical coaching sessions to review exams and patient experiences, she shares her personal cell phone number so that her students can reach her if they are ever in a bind. "I can see what they have learned, where the gaps are and where to strengthen their knowledge. This is complicated work, but it is doable, and a week is a short time to share 25 years of knowledge."
Students join an exclusive network of graduates, and one year of membership is included in their tuition costs. Members can attend quarterly webinars hosted by neurologists and other specialists and receive a monthly newsletter with updates and clinical pearls. "I want them right there with me so they can implement new clinical pearls right away as they are developed in my office," Dr. Feinberg says.
Graduates are included on a Find A Provider feature on the institute's website.
Dr. Feinberg is thankful for each opportunity to expand the network and have another colleague to whom she can refer across the country and globe. One of her clinical students came from Australia. "We love when new doctors join us, so we have a new place to send patients," Dr. Feinberg says. "The lucky patients can travel, but not everyone can, so we need to have a specialist in everyone's hometown."
Learn more about training with Dr. Feinberg and her team.
Want to hear more from NeuroVisual Medicine Institute graduates? Jessica Bonner, OD, of Portland, Oregon, and Marianne McDaniel, OD, of Mascoutah, Illinois, spoke with Women In Optometry about why this training was right for them and the impacts in their offices.