Kelly Asbra has a guiding principle: people deserve a second chance, and inmates need marketable skills to succeed once they're released from prison. And she can back it up. She worked at the Coffee Creek Correctional Facility, teaching opticianry and paraoptometric skills. The prison has a finishing lab, and inmates there produce about 1,100 pairs of eyewear per year for the population of all 14 prisons in the state.
About six years ago, Asbra began talking with the Oregon Lions Sight & Hearing Foundation (OLSHF) about an idea: gain funding to build a lab to extend what she was doing in the prison to help people in the community. Asbra had the track record for such a plan. Not only could she teach the skills and manage the optical, but she could also show that the program provides pathways forward for incarcerated women.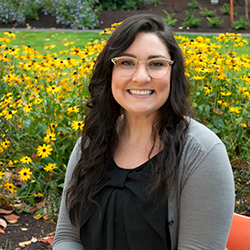 OLSHF hired Katie Torgerson, who earned her ABO certification while she served her time at Coffee Creek. After her release in 2014, she and the OLSHF development director, with assistance from Asbra, applied for a grant through Sight First. The first allocation in the two-part grant allowed OLSHF to build a lab to produce high-quality, low-cost eyewear for low-income adults and children.
The lab, in tandem with Lions Eyeglass Assistance Program (LEAP), made 2,500 pairs of eyeglasses for people in need in 2019. A few years later, the second part of the grant helped OLSHF build a retail optical shop, Eye Promise Optical. Net proceeds from the shop go directly back into the charitable efforts of OLSHF through LEAP. In 2015, Asbra left her work with the prison to start working for OLSHF.
Torgerson, now optical manager for Eye Promise Optical, is grateful that the program provides a transition into the workplace. "It's very difficult to look for work when your last employment was in prison. I didn't have a bridge," she says. Annually, more than 200 women apply for the course. However, each year just 15 women are offered a spot in the competitive program.
Torgerson and Asbra are working toward creating an internship program for women in the Coffee Creek program, which would provide them with a few months of employment to help transition them back into society.
THE INSURANCE QUESTION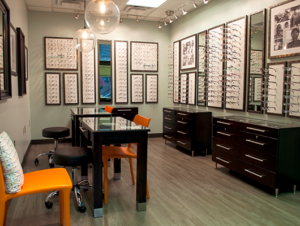 Opening a retail shop is a bit different than operating a state-supported lab. Customers need to pay for their eyewear. Torgerson and Asbra met with several managed vision companies early in the process to determine if it was best to align with one or more. Then they spoke with Anagram, formerly known as Patch, at Vision Expo West, after being introduced by their lab representative. Anagram would allow them to capture the elusive 33 percent: patients who leave the moment they hear an optical shop is not an in-network provider. "We decided to try it for a year to see if we could increase our capture rate," says Asbra.
FEWER RESTRICTIONS
Anagram is a web application that helps patients and customers use their out-of-network insurance benefits and providers reclaim control of their practices. It is a fast way to access patients' out-of-network benefits. This helps staff avoid the lengthy insurance verification process. The Anagram team also helped Eye Promise Optical staff explain how customers can benefit, even without going to an in-network provider. The optical doesn't submit in-network to any insurer. Instead, staff helps patients process out-of-network claims for any major provider. Now, Torgerson or another optician can immediately tell patients how they can help. "The benefits pop up so fast that it's almost immediate. There's no sitting and waiting while we look this up," she says.
Asbra notes that many customers find that the prices at Eye Promise Optical are lower than what they would have in-network. "When they hear that they're going to get $80 back on the frame that the really like and learn about who we are, they're often glad to do business with us," she says.
"We're not restricted to any lab or any particular frame lines," says Torgerson. "For example, we're the only ones in the state that carry the French frame line Plein Les Mirettes. We like to let customers know not only our mission and story but the stories that are behind frame lines like MODO's Eco line. By not being tied to frame line restrictions from vision benefits plans, we have control of the product."
Through its mission for good works, Eye Promise Optical, with the help of Anagram, has been able to bring more affordable eyewear choices to more people.